Graphic photographs showing the moments that a hot air balloon caught fire and then plummeted to the ground have been released.
11 people died in the accident in New Zealand in January 2012. The tragedy in Carterton was one of the country's worst air disasters.
Four images were submitted as evidence to an inquest into the tragedy. A coroner has allowed the images to be released to the media after it was argued that showing the pictures was in the public interest.
Among the images is one which shows the balloon hitting power lines during the flight. The pictures show the basket in flames and then the balloon itself catching fire. The balloon is pictured plummeting to the ground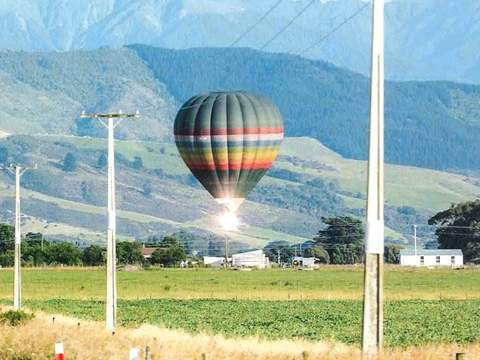 Many of the families of the victims had also wanted the images of the flight to be published.
Allan and Vivienne Still, parents of Alexis Still, who died in the tragedy, had earlier told One News the public needed to see the photos. They said the images would serve as warning to people planning to travel on balloons enabling them to make an informed decision about safety.
But the photographer who took them, Geoff Walker, opposed their release because he owned the copyright.
Mr Walker took hundreds of photos of the flight which were given to police as evidence. He later dropped an appeal preventing their release, accepting that the decision was likely to have ended up back with the coroner.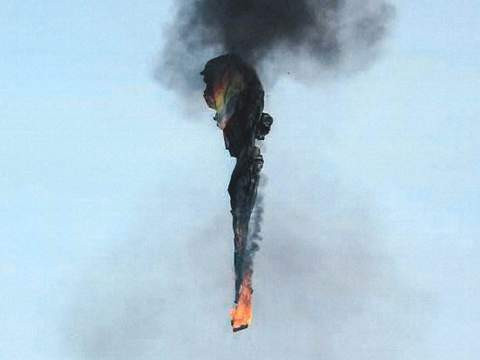 In 2013, investigators said the pilot of the balloon, 53-year-old Lance Hopping, had probably smoked marijuana before the flight that resulted in him making several errors of judgement.
According to the investigators report, the balloon took off at 6.40am in good weather, but it is believed that Hopping let the balloon get too low during the flight, applying the burners when he got near power lines in an attempt to rise above them and not descending fast enough when he was about to strike the lines.
The balloon basket became entangled in the lines and exploded into flames, The heat then caused the balloon to break free of the wires and rapidly ascend, before crashing into the ground.
Two of the passengers jumped out when the balloon was about 20 metres (66ft) up, but died in the fall.
Hopping and the remaining passengers were killed when the balloon crashed to the ground.