NFL star Aaron Hernandez kills himself in prison just days after being acquitted of murder
Former New England Patriots tight end discovered hanging in his cell.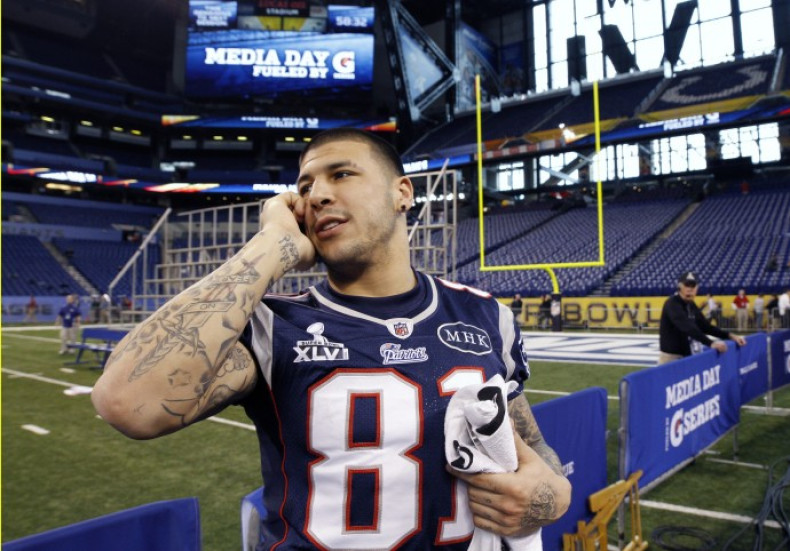 Aaron Hernandez, the former NFL star, killed himself in prison on Wednesday morning (19 April), officials have said.
The one-time New England Patriots tight-end was discovered hanging in his cell at the Souza Baranowski Correctional Center in Shirley, Massachusetts, at approximately 3.05am local time.
His suicide comes just days after he was acquitted of murdering two men in Boston in 2012.
"Mr. Hernandez was in a single cell in a general population unit," a statement by the Department of Correction said.
"Mr. Hernandez hanged himself utilizing a bedsheet that he attached to his cell window. Mr. Hernandez also attempted to block his door from the inside by jamming the door with various items."
Hernandez, 27, was taken to UMASS Leominster, where he was pronounced dead at 4.07am.
State police are investigating and his family have been notified, officials said.
Hernandez, originally from Bristol, Connecticut, played for the New England Patriots from 2010 to 2013. His career highlights included a Super Bowl touchdown and a five-year contract worth $40m (£31.2m).
In 2013, he was sensationally arrested for the murder of semi-professional football player Odin L. Lloyd. He was convicted and sentenced to life without parole, cementing a spectacular fall from grace.
Hernandez was also later charged over the 2012 drive-by shooting of Daniel De Abreu and Safiro Furtado, who were killed outside a Boston nightclub.
Prosecutors said the alleged murders were fuelled by his anger over a spilled drink.
But on Friday, a jury found the athlete not guilty of two counts of murder. He was convicted only of one count of illegal possession of a firearm.
A visibly emotional Hernandez had been seen wiping away tears and embracing his attorneys as the verdict was read out in court. He also blew kisses to his fiancee, Shayanna Jenkins Hernandez, and their four-year-old daughter.
"He was charged for something somebody else did, and that is a weighty burden for anyone to shoulder," defense attorney Ronald Sullivan had said.
Despite fighting off a double-murder charge, Hernandez still faced spending the rest of his life behind bars for the killing of Lloyd.
The 27-year-old, who was the boyfriend of Hernandez's fiancee's sister, had been found dead near Hernandez's home having been shot multiple times.
The Samaritans provides a free support service for those who need to talk to someone in the UK and Republic of Ireland. It can be contacted via Samaritans.org or by calling 116 123 (UK) or 116 123 (ROI), 24 hours a day, 365 days a year.
If you or someone you know is suffering from depression, please contact a free support service at Mind.org.uk or call 0300 123 3393. Call charges apply.