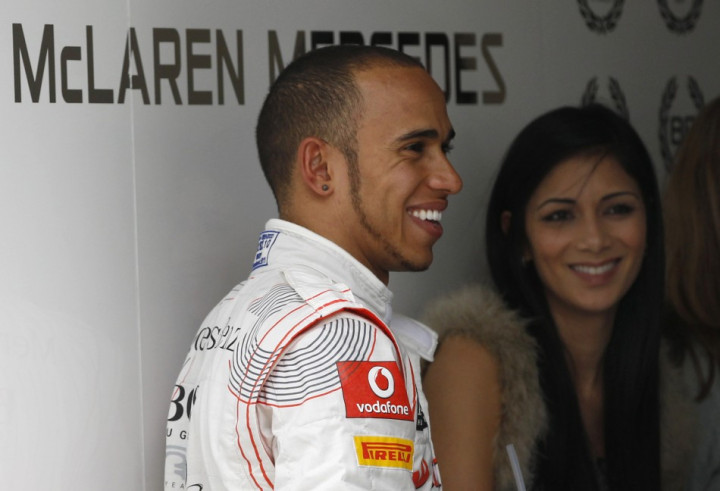 Formula 1 superstar Lewis Hamilton, who spilt up with his long-time girlfriend Nicole Scherzinger last month, is apparently struggling to cope with the break-up. "If you've found that special someone, don't EVER let them go no matter what!! Nothing in this world is more important," he wrote on Twitter late on Friday night. He also posted a picture of himself in his recording studio, with the caption, "My hideaway - pouring my heart into this track!!"
"Nicole and Lewis split due to hectic work schedules and his refusal to commit, but he's having a hard time away from Nicole. He's starting to see what he's lost," a source close to Hamilton told Star magazine.
"Lewis finishes up his Formula 1 commitments in November and is planning to fly straight to the UK to be here for Nicole while she films the live X Factor shows," the source added.
The 28-year-old former Formula 1 world champion with McLaren-Mercedes began dating Scherzinger after the MTV Awards in 2007. However, conflicting schedules and the fact that the 35-year-old singer is based in the US and Hamilton in Switzerland (when he's not travelling for his career) led to several difficult moments.
In January 2010, the two were reported to have broken up and the same speculation surfaced in October the following year. The two were then reported to be on the verge of breaking up last summer as well, when the former Pussycat Dolls singer confronted him about his infidelity. The couple stuck it out that time but it seems they've finally given up the ghost
"It's so hard to keep up a relationship when they're barely in the same country as each other. Both have supported each other in their careers and will continue to do so. But the nature of their work ultimately cost their relationship," a source close to the couple stated.
Meanwhile, Scherzinger confessed that she was left feeling lonely after the break-up.
"I don't have anyone here, I don't have my family, I don't even have any friends here. My publicist is my closest friend," Scherzinger said.
"It gets lonely but I'm working all the time. If I'm not doing X Factor I put myself in the studio or I also love good food, so I'm getting to explore lots of different restaurants here. I take my publicist and my assistant as my dates, literally," she added.