More than 1.5 million people have been displaced in Nigeria due to the violent insurgence of terror group Boko Haram, which has killed more than 13,000 people since its movement became violent in 2009.
The Islamist insurgents carry out attacks mainly in north-east Nigeria, where they aim to establish an Islamic caliphate. As a result of their continuous attacks and mass abductions of civilians –mainly women and children who are then forced to participate in terror operations – the economy and public services such as health care and education have collapsed throughout the north, marred by poverty and violence.
As President Muhammadu Buhari is working to intensify the ongoing regional offensive to end terrorism in Nigeria and neighbouring countries, IBTimes UK spoke with the Fa'ash Foundation about its work to lift Nigerians out of poverty and prevent unemployed youths from being recruited by Boko Haram.
Education as 'backbone of life'

Fa'ash Foundation's board of trustees
Hajjiya Fatima Mohammed (Chairperson)
Jibrin Umar Bolori (Esq.) (Secretary)
Hrh Shehu Kyari Umar Elkanemi, Shehu Of Bama
Hrh Mai Umar Mustapha Aliyu (CON) Emir Of Biu
Hrh Samaila Muhammad Mera (CON) Emir Of Argungu
Alhaji Mohammed Bukar
Senator Umar Abubakar Tafida
Adamu Abdullahi Elleman
Hajjiya Aisha Mohammed
Fa'ash was founded in 2012 by two sisters, Hajiya Fatimah Mohammed Dikwa and Aishatu Mohammed, who dedicate their lives to helping needy people in Nigeria. The NGO's headquarters are in the capital Abuja, with a regional office in Maiduguri, capital of restive Borno state.
"To date, about 49 of schools, hospitals and centres have benefited from Fa'ash projects," Ahmed Umar Bolori, the NGO coordinator for Maiduguri, told IBTimes UK. He added that the foundation provides less privileged children from primary, secondary and tertiary school with scholarships as it considers education "the backbone of life."
Bolori, who is also a businessman and an ambassador for peace, explained that some youths voluntarily join Boko Haram due to lack of education, poverty and corruption, which makes them feel as though terrorism is their only way to earn some money and provide for their families.
Who are Nigeria's Boko Haram terrorists?
Boko Haram (recently renamed Iswap) fights against Western influence in Nigeria and aims to impose its version of Sharia law in the country.
The group declared an Islamic caliphate in Gwoza, along the Cameroon border, in August 2014.
Boko Haram has raided several cities in the north of the country in a bid to take control of more land.
The group has killed more than 3,000 people since the beginning of 2015.
He said: "Boko Haram itself is a kind of alternative for those who don't have a good life. Sometimes, young boys are the breadwinners for their families as their fathers have been killed. And if they are told by someone: 'Go there and drop this bomb and I'll give you 5,000 naira.' These boys sometimes don't have any alternative but go there and drop the bomb.
"In Fa'ash ever-yearning spirit of ensuring that the children of the less-privileged were not left behind in the current global quest for computer literacy and ICT compliance, Fa'ash had assisted several children with computer laptops."
Bolori added that the NGO is also active in helping HIV and Aids patients and less privileged women, particularly those affected by breast cancer and fibroids. It also donates drugs to hospitals and maternity homes.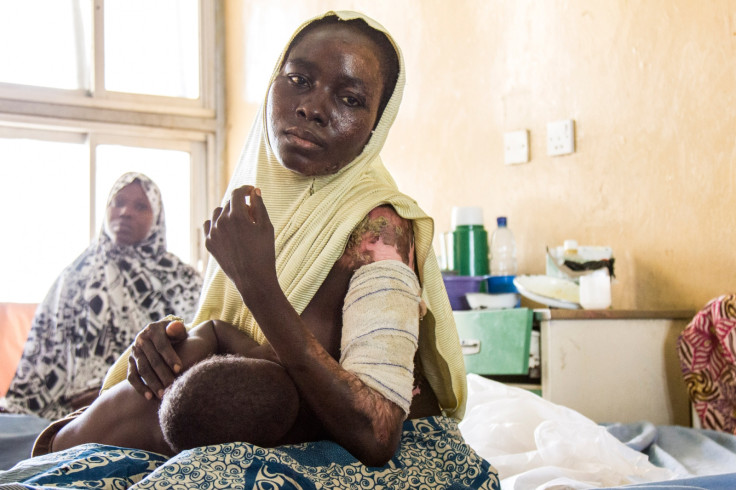 The conflict can only be resolved with dialogue
Borno is one of the three states, together with Yobe and Adamawa, that has been put under the state of emergency due to Boko Haram's violence. The state, which is the birthplace of the terrorist group, is one of the mostly attacked by the militants, who destroys entire villages during their violent raids.
As a result, thousands of people flee their homes and find shelters in centres for displaced people, which Bolori said are overcrowded due to the massive influx of refugees.
According to Bolori and Fa'ash, the way to resolve the conflict is through education, constructive dialogue and peaceful resolutions. As a result, the foundation also trains young members of the Civilian Joint Task Force – vigilantes who help the army in its fight against Boko Haram – in finding peaceful solutions to the conflict.
"These patriotic youth leaders who are there to bring about peace believe in the use of violent force to bring about peace," Bolori said. "Most of [them] are usually seen on the various roads of the city, holding sticks, knifes, machetes and all sort of weapons.
"Although it will not be possible to train all of them, training their leaders – who are expected to extent what they have learned to their cohorts – will positively go a long way in addressing the issue."
If you want to know more about Fa'ash, you can contact the coordinators at faashfoundation@gmail.com
Nigeria up close: Check out our Flipboard magazine