Nnamdi Kanu: Ipob to resume protests as new hearing for Biafran leader looms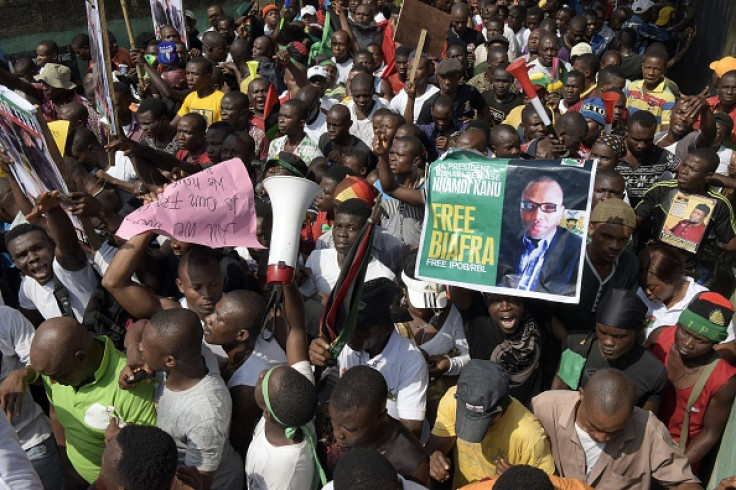 Members of the Indigenous People of Biafra (Ipob) have threatened to resume protests on 15 January calling for the release of their leader Nnamdi Kanu. The warning came days after Kanu's case was assigned to a new judge, Hon. Justice John Tsoho.
"The protests are to hold in every State in Biafraland," an Ipob member told IBTimes UK on conditions of anonymity. "They will start today 15 January," he continued.
The source explained protests will continue next week, should Kanu not be released during the next hearing on his bail application, scheduled for 18 January at the Federal High Court in Maitama, Abuja.
Kanu is the director of Radio Biafra and leader of Ipob. He was arrested by the State Security Service (DSS) in Lagos in October 2015 on conspiracy and terrorism charges that were later dropped.
However, a day after the Abuja High Court ruled he should be released, officials pressed new treasonable felony charges against him. A few days later, President Muhammadu Buhari sparked outrage after stating that Kanu would not be freed in spite of the High Court rulings due to the "atrocities" allegedly committed.
Barrister Ifeanyi Ejiofor, one of the two lawyers representing Kanu, told IBTimes UK that he had filed a request to see his client before 18 January to be able to prepare his defence.
Vincent Obetta, part of the defence team, told Biafra Media Forum that he was able to spend more than two hours with Kanu at the DSS office in Abuja on 15 January. In spite of allegations of ill-treatment, Obetta said of his client: "[He] is healthy, he is in good spirit, and he sent his goodwill to all of you."
The lawyer denied Kanu was ill or had been tortured and urged people not to distort the truth.
Pro-Biafrans have been holding rallies across south-eastern Nigeria calling for Kanu's unconditional release and the independence of the Biafran territories forcibly annexed to modern-day Nigeria during British colonisation.
Some demonstrations have resulted in the alleged death of protesters believed to have been shot by the police and army. In several interviews with IBTimes UK, security forces denied the allegations and urged pro-Biafrans to hold demonstrations without disrupting peace in the country.
Nigeria up close: Check out our Flipboard magazine
© Copyright IBTimes 2023. All rights reserved.