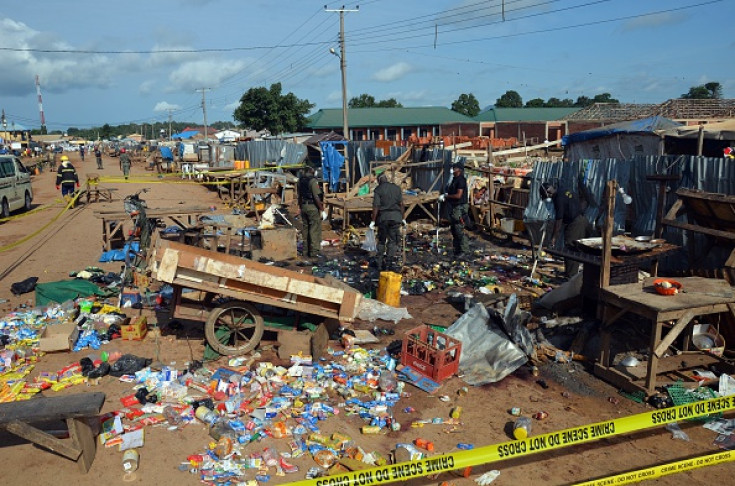 Nigerian terror group Boko Haram has claimed responsibility for a series of blasts that occurred in the capital Abuja on 2 October, which left at least 18 people dead and 41 injured. The first two took place in Kuje township, where a suicide bomber detonated their explosive at a police station, while another went off at a market. Meanwhile, a bomb exploded at a bus stop in Nyanya.
Two days after the attack, a Twitter account linked to the terror group posted pictures of alleged people who carried out the blasts and claimed responsibility for the multiple attacks, according to the SITE intelligence group.
The post was signed by the Islamic State in West Africa Province (Iswap), Boko Haram's new name since it pledged allegiance to terror group Islamic State (Isis) earlier this year. According to the posts, the attacks aimed to target "strongholds of the apostates (non-believers)".
Nyanya suffered an attacked in April 2014, when two bombs exploded at a bus station killing at least 88 people and some 200. In 2011, the group claimed responsibility for a blast that killed 21 people and injured 60 at a UN building in the capital.
The latest attack occurred weeks after Nigerian intelligence warned the military had uncovered a plot by Boko Haram to attack Abuja. The news came days after the country's intelligence warned dozens of people linked to the Islamist outfit had been arrested in Lagos, Nigeria's commercial hub, suggesting the insurgence could spread beyond the country's north.
Boko Haram is fighting to overthrow the Nigerian government and establish an Islamic caliphate throughout the occupied territories. Although sporadic attacks have occurred in central Nigeria, the group focuses its insurgency in the north of the country with sporadic attacks in Cameroon, Niger and Chad.
Nigeria is leading a new task force against Boko Haram – consisting of 8,700 troops from Nigeria, Niger, Chad, Cameroon and Benin – which is believed to have scored some successes, such as the recapture of a key town in Borno.
The latest attack came as the government alleged the terrorists are surrendering, while the group said in an audio message that claims made by the government and army are false. The person heard speaking in the audio is believed to be the group's leader, Abubakar Shekau, who is rumoured to have been replaced due to his repeated absence from the group's videos.
In August, Chad's President Idriss Deby alleged Mahamat Daoud had replaced Shekau as the leader of Boko Haram. Shortly after, Shekau released an audio message denying the claim. Some analysts have also alleged that since the group pledged alliance to IS, Shekau has stepped aside.