Eid al-Adha 2015: People angry at 'inhumane' Maiduguri curfew due to Boko Haram attack fears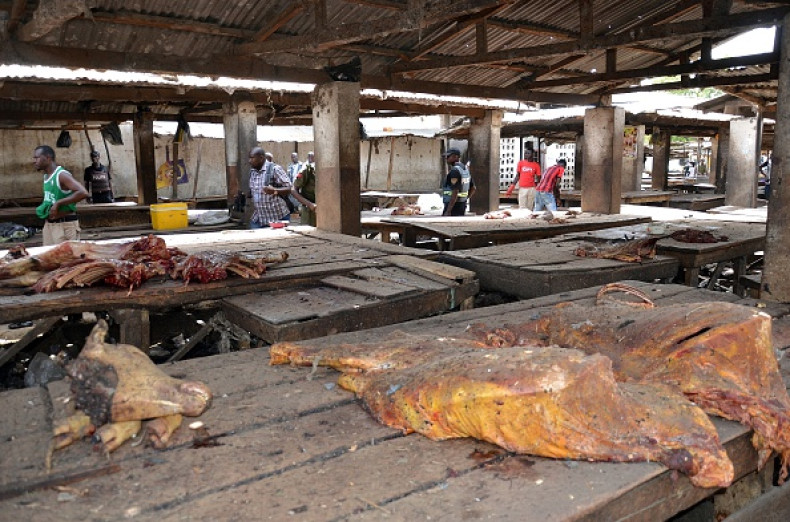 Citizens in Maiduguri, capital of the restive Borno state in northeastern Nigeria, are angry at a curfew and movement restrictions imposed by the government due to fears that attacks by terror group Boko Haram could increase during the Muslim celebration of Eid al-Adha. The curfew started at 5pm on 23 September and is expected to continue on 24 September. Moving animals and all vehicles, except for ambulances and police cars, is also banned.
The restrictions were announced in a statement by the spokesperson for the army's 7 Division in Maiduguri, Colonel Tukur Ismail Gusau, who said: "The public in Borno State is informed that a restriction on vehicular movements will be observed during the Eid-el-Kabir celebrations throughout the state.
"All movements using vehicles, bicycles and animals in Maiduguri will be restricted as from Wednesday 5pm [on] September 23. Similarly, all vehicular movements into and out of Maiduguri town will also be restricted within the period till further notice."
Boko Haram, which aims to overthrow the current regime and establish an Islamic caliphate throughout the occupied territories, usually increases its attacks during religious celebrations, such as Ramadan and Eid al-Fitr. Earlier in September, the group is believed to have killed between 54 and 100 people following three blasts in Maiduguri, the epicentre of the group's deadly insurgence.
However people are complaining that the movement restrictions are "inhumane" and are preventing them from celebrating Eid, one of the most important religious holidays in Islam.
Ahmed Umar Bolori, ambassador for peace and Maiduguri coordinator for the Fa'ash Foundation, told IBTimes UK: "This has been happening for over two years now and people know they will celebrate Eid or any other celebration indoors without being able to go out and visit their relatives. But they are bitterly complaining that the measure is inhumane and unprofessional."
Bolori thinks the possibility of attacks by Boko Haram will decrease if security personnel is scattered everywhere around the town. He said: "I am against the curfew and after the restrictions end, people will start move, markets will start operate and there will be people everywhere. People consider the curfew as a kind of postponement of the celebration.
"The number of security personnel is OK, but it is not deployed in the correct way. You see security forces only if you go to the main road, not in residential areas. What the government should have done was to maximise the security and allow people to move."
Businesses affected and lamb prices increased
Sunday Obon, a Christian businessman from southern Nigeria who relocated to the north, said his business was affected by the restrictions. He told IBTimes UK: "I am a Christian , I don't celebrate Eid. My business is usually closed on Sunday because I don't work during this day, as part of my religion. This will be a long time with no business, three or four days without any income and the government is not doing anything to compensate me."
According to Ali Mohammed, the owner of a children clothing boutique in Maiduguri, the government should come up with alternative plans. "The government should have learned from the past," he told IBTimes UK. "People buy presents for children during Eid, this was a good time for making money. People also slaughter lambs during Eid, but because of the restriction, the price of the lamb has risen and this is not good. Our only option is to buy lamb from the place closest to our houses, we cannot go anywhere else."
Security is highest priority
President Muhammadu Buhari said security remains his highest priority and sent his condolences to the families of the victims of the recent blasts in Maiduguri. "President Buhari's thoughts and prayers for Divine solace are with all those who have been callously plunged into mourning by mindless terrorists, when others are celebrating this year's Eid-El-Kabir [25 September]," Buhari's senior special assistant on media and publicity, Garba Shehu, said in a statement.
Who are Nigeria's Boko Haram terrorists?
Boko Haram (recently renamed Iswap) fights against Western influence in Nigeria and aims to impose its version of Sharia law in the country.
The group declared an Islamic caliphate in Gwoza, along the Cameroon border, in August 2014.
Boko Haram has raided several cities in the north of the country in a bid to take control of more territory.
Three states − Adamawa, Borno and Yobe − have been under a state of emergency since May 2013, due to Boko Haram's attacks.
Boko Haram is believed to have killed more than 17,000 people since its deadly insurgence became violent in 2009. The Nigerian army recently slammed an audio message release by the group as "cheap propaganda" and called for its leader, believed to be still Abubakar Shekau, to step down.
Shekau, who is rumoured to have been substituted after he failed to appear in the group's propaganda videos earlier in 2015, said in the message: "[The military] have lied about us, saying that they have retaken our territories, taken weapons and driven us away. They are actually the ones whom we have driven away. They are all liars."
However, defence spokesperson Colonel Rabe Abubakar alleged that some Boko Haram members have been surrendering to the army and reiterated that the military is working "round the clock" to defeat terrorism.
Nigeria is leading a new task force – consisting of 8,700 troops from Nigeria, Niger, Chad, Cameroon and Benin – which is believed to have scored some successes, such as the recapture of a key town in Borno.
Nigeria up close: Check out our Flipboard magazine
More about Boko Haram