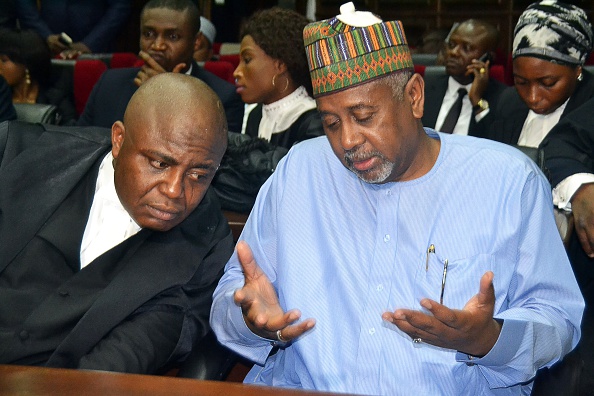 Nigeria's former security adviser has been charged with alleged fraud. Sambo Dasuki and four others were charged by the Abuja federal court with 19 counts of money laundering and criminal breach of trust for N13bn (£68.2m; $103m) on 14 December. The defendants pleaded innocent.
Dasuki, who worked as a security adviser under the administration of former President Goodluck Jonathan, was arrested earlier in December following an investigation on arms procurement.
Among other things, Dasuki and former director of finance, Shuaibu Salisu, were charged with criminal breach of trust for having allegedly used N10bn from the account of the National Security Adviser to fund delegates of Jonathan's Peoples Democratic Party (PDP) during the 2014 electoral campaign, a statement by the Economic and Financial Crimes Commission (EFCC) said.
Justice Baba-Yusuf adjourned the case to 15 December.
Dasuki has also been accused by President Muhammadu Buhari – who vowed to eradicate widespread corruption after taking office in May – of awarding contracts to buy 12 helicopters, four fighter jets and munitions worth $2.9bn (£1.8bn) that, in reality, were never purchased.
He denied the allegations and said during an interview with PR Nigeria he was proud the army had managed to push Boko Haram terrorists out of its self-appointed Islamic caliphate in north-eastern Nigeria while he was still in control of the offensive.
Who are Nigeria's Boko Haram terrorists?
Boko Haram (renamed Iswap) fights against Western influence in Nigeria and aims to impose its version of Sharia law throughout occupied territories. The group declared an Islamic caliphate in Gwoza, along the Cameroon border, in August 2014.
Boko Haram carries out attacks in Nigeria and neighbouring countries in a bid to take control of more territory. Three Nigerian states − Adamawa, Borno and Yobe − have been under a state of emergency since May 2013.
Boko Haram has killed between 17,000 and 20,000 people since 2009 and was deemed the world's deadliest terror group, surpassing its ally, the Islamic State (Isis), in November. Nigeria has become the world's third most terrorised country as a result of the group's violent insurgency.