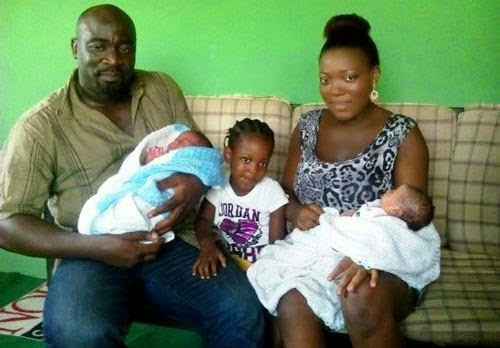 Nigerian actor and producer Femi Ogedengbe has hit out at critics after he faced fierce backlash for calling his newborn twins Hollywood and Nollywood.
The star recently left fans stunned when he announced on Facebook that he had added the unusual monikers to his twins', a boy and a girl, list of names.
He explained it was only right as he owed his fame and riches to the two of the world's biggest film industries.
But some members of the Nigerian community claimed that the father-of-three was trying to be controversial by following in the footsteps of American celebrities and also setting up his children for a bad life by naming them after industries synonymous with immorality.
"When the children grow up they will answer Nolly n Holly. Forget about d wood. When he get another set of twin will he name them Boko n Haram .. or Iran n Iraq" one unimpressed fan said.
Another wrote: "Those kids will hate dose (sic) names eventually nd change it themselves, thr peers will always laugh at dem, so save dem d shame nd change d name nw Dats not too late."
But Ogedengbe, who has appeared on dozens of Nollywood movies, insisted that he was entitled to give his children whatever name he saw fit.
In a message on Facebook, he also told critcs that they should be focusing their energy on Nigeria's real problems.
"The level of hypocrisy in Nigeria is just too high or how do I explain the attack I and my wife have received on different blogs for adding Nollywood & HOLLYWOOD among the names we gave our bundles of Joy," he wrote.
"I guess all those who condemned us have been so blinded by Hatred that they couldn't see all other names but the HOLLYWOOD and Nollywood. Anyway, thanks for noticing me, my wife and our children, but What is really bad in those two names?
He went on to insist that without his film career he would have been dead on the streets or in prison.
"Thanks to Nollywood, I am now Femi Ogedengbe! It is a pity that people will seat in the comfort of their homes, hide behind the freedom that such platform as Facebook and all other social network provide to judge the logic behind the actions of people they don't know."