The Nigerian army has committed countless crimes and should be prosecuted, a new report by Amnesty International has alleged.
The rights group claimed that Nigerian soldiers arrested and extrajudicially killed thousands of people in their fight against terror group Boko Haram in north-eastern Nigeria, and that at least 8,000 people died while in military detention as a result of overcrowding, starvation and lack of medical assistance.
Amnesty's report, Stars On Their Shoulders. Blood On Their Hands: War Crimes Committed By The Nigerian Military, includes hundreds of leaked military reports as well as interviews and correspondence with more than 400 alleged victims.
The NGO called on the Nigerian government to start an independent and impartial investigation and prosecute senior officers for alleged war crimes and crimes against humanity.
"Those who gave orders or directly participated in the commission of these crimes should be investigated to establish their individual responsibility. Superior officers could also bear responsibility for violations committed by units under their command," the report said.
Last August, Amnesty received footage purportedly showing Nigerian soldiers killing suspected Boko Haram members and dumping their bodies in mass graves.
When the footage was made public, Amnesty said: "The ghastly images are made worse by the numerous testimonies we have gathered which suggest that extrajudicial executions are, in fact, regularly carried out by the Nigerian military and CJTF [Combined Joint Task Force]."
According to Nigeria's Premium Times, newly elected President Muhammadu Buhari said he will review the report which he said contains "disturbing allegations".
The newspaper also quoted the Nigerian Defence Headquarters as saying that the report is a "calculated attempt to rubbish their [officers'] reputation as well as the image of the military."
Battle against Boko Haram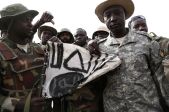 Who are Nigeria's Boko Haram terrorists?
Boko Haram fights against Western influence in Nigeria and aims to impose its version of Sharia law on the country. The group declared an Islamic caliphate in Gwoza, along the Cameroon border, in August 2014.
Boko Haram has raided several cities in the north of the country in a bid to take control of more land.
Three states − Adamawa, Borno and Yobe − have been under a state of emergency since May 2013, due to Boko Haram's attacks.(Photo: Reuters)
The report came days after Buhari was sworn in. The leader, a former military general and member of the All Progressive Congress (APC) party, vowed to end Boko Haram's insurgence and said the country would do everything it could to find the 220 girls abducted by the terrorists from Borno's Chibok village in April 2014.
The Nigerian government is being aided by mercenaries and troops from neighbouring countries Chad, Benin, Niger and Cameroon in its offensive and has scored some successes since the military cooperation started in February.
The US announced it would send military trainers to help the Nigerian army improve its intelligence gathering and logistics.
During a visit to Chad on Wednesday (3 June) Buhari renewed his commitment to fight the group, which has killed thousands of people since its insurgence started in 2009.