The leader of Nigerian terror group Boko Haram (now Iswap) has failed to appear in the insurgents' latest video triggering speculations about his whereabouts and fate.
Abubakar Shekau has appeared in most videos released by the group and experts said his absence is very unusual.
The new video features an unidentified man holding identity cards who he claims belonged to killed soldiers.
"Most of our territory is still under our control," he says in the message according to AFP, dismissing claims by the Nigerian government that it had recaptured most of the areas invaded by the group.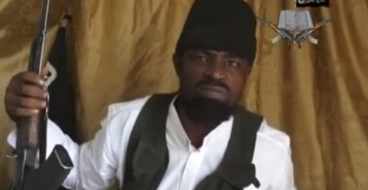 "The armies claim through the media that they captured our towns and that they assaulted Sambisa and defeated us," he continued, referring to the government's announcement that the army had entered what has been deemed "the terrorists' last-known stronghold" in the Sambisa forest, on the border with Cameroon.
"I swear by Allah that I am talking right now from Sambisa. We are uncountable in Sambisa."

Who are Nigeria's Boko Haram terrorists?
Boko Haram fights against Western influence in Nigeria and aims to impose its version of Sharia law on the country. The group declared an Islamic caliphate in Gwoza, along the Cameroon border, in August 2014.
Boko Haram has raided several cities in the north of the country in a bid to take control of more land.
Three states − Adamawa, Borno and Yobe − have been under a state of emergency since May 2013, due to Boko Haram's attacks.(Photo: Reuters)
The video was released shortly after an attack by suspected Boko Haram members killed at least 50 people in Maiduguri, capital of the restive Borno state, the epicentre of the group's insurgence.
The attack was carried out days after newly elected President Muhammadu Buhari announced a relocation of military headquarters from Abuja to Maiduguri.
Buhari, a former military general and member of the All Progressive Congress (APC) party, vowed to end Boko Haram's insurgence and said the country would do everything it could to find the 220 girls abducted by the terrorists from Borno's Chibok village in April 2014.
The Nigerian government is being aided by mercenaries and troops from neighbouring countries Chad, Benin, Niger and Cameroon in its offensive and has scored some successes since the military cooperation started in February.
The US announced it would send military trainers to help the Nigerian army improve its intelligence gathering and logistics.