The Nigerian government was aware about terror group Boko Haram's plan to abduct more than 200 school girls in Chibok, Borno State Amnesty International UK has said.
Nigeria's military headquarters were aware of the impending attack soon after 7:00 PM on 14 April, the date the girls were kidnapped, but failed to act despite the advance warnings, according to testimony gathered by Amnesty International.
"After independently verifying information based on multiple interviews with credible sources, the organisation today revealed that the Nigerian security forces had more than four hours of advance warning about the attack but did not do enough to stop it.," Amnesty said.
Netsanet Belay, Amnesty International's Africa Director, Research and Advocacy, said: "The fact that Nigerian security forces knew about Boko Haram's impending raid, but failed to take the immediate action needed to stop it, will only amplify the national and international outcry at this horrific crime."
A separate report by the Northern Nigeria Chapter of the Christian Association of Nigeria (CAN) claimed the kidnapping is a conspiracy involving the governor of the state, Kashim Shettima, the principal of the school, the chief security officer of Borno & the commissioner for Education.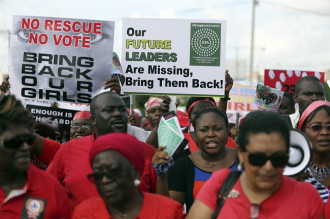 Boko Haram, which opposes the westernisation of Nigeria and tries to impose sharia law in the country, has threatened to sell the girls as brides to militiamen and smuggle them to neighbouring countries Chad and Cameroon.
About 50 of the nearly 300 kidnapped girls managed to escape, but some 220 are still missing.
The mass abduction has sparked international outcry.
Several NGOs have urged the militants to release the girls and put an end to their reign of terror in Nigeria.
The US announced it will send intelligence and hostage negotiation experts to help find the missing girls.
Prominent political figures as well as celebrities, have joined the Twitter campaigns #BringBackOurDaughters and #BringBackOurGirls which are attracting thousands of followers every day.
Malala Yousafzai, the Pakistani girl who was shot by the Taliban in 2012, has also urged immediate action to save the girls.