Nigeria's oil production has been halved by attacks on oil pipelines in the oil-rich Niger Delta region. Recent attacks on oil facilities owned by Shell, Agip and Chevron have been blamed on a newly established militant group, the Niger Delta Avengers (NDA), which vowed it would completely halt Nigeria's oil production unless the government meets the group's demands.
NDA is the latest militant organisation to wage war against Nigeria due to perceived marginalisation in the Niger Delta. Earlier this year, attacks blamed on NDA partially halted oil production and forced Chevron and Royal Dutch Shell to close two plants following attacks linked to the group.
On 27 May, the group took to Twitter to claim responsibility for an attack at "Nembe 1, 2 and 3 Brass to Bonny Trunk Line belonging to Agip and Shell." In another Tweet, the group warned that "something big" was about to happen.
Military presence in the area has increased following attacks. President Muhammadu Buhari has accused the NDA of vandalism and warned that the Nigerian government would deal with the group in the same way it is tackling Boko Haram terrorists in the country's north-east region.
British Foreign Minister Philip Hammond, however, said Buhari needed to address the underlying causes of the conflict, amid fears a military confrontation could end in "disaster".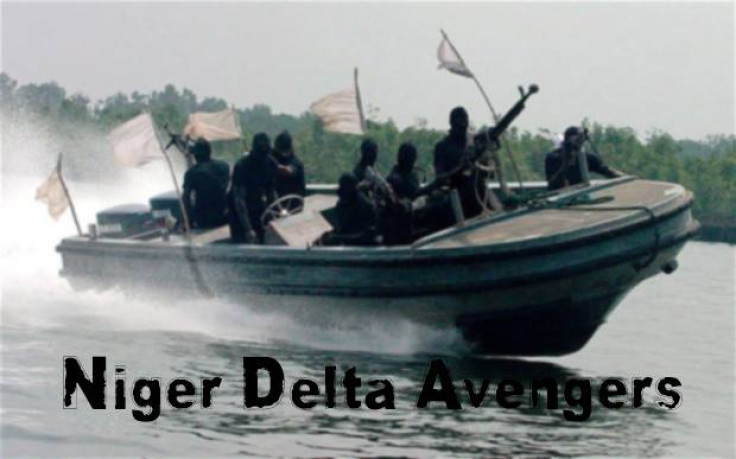 Niger Delta community leader Udengs Eradiri warned violence was likely to escalate unless the government "changes its body language", Reuters reported. Eradiri blamed Buhari for his decision to cut funding for a 2009 amnesty that offered militants money and a job training if they stopped attacks by two-thirds.
"The body language of this administration did not suggest that they wanted a peaceful environment," he said. "Once the presidency begins to do what is right, they [militants] will be restrained," he said.
Fuel crisis
The prolonged problem of attacks on oil pipelines, a foreign exchange crisis and the drop in global oil prices have exacerbated an ongoing fuel shortage in Nigeria, for which the previous administration had been often blamed.

Nigeria is Africa's biggest oil producer, but its lack of refineries mean the country has to export about 90% of its crude oil and import back petroleum products at international prices. The government has been selling fuel to Nigerians at subsidised rates, reimbursing the difference to importers.
However, this changed in May 2016, when the government announced petrol prices would rise to 145 naira (50p), up from about 86.5 naira (30p). The move angered many, with trade and labour unions labelling the decision "criminal" and calling for a strike, which was later cancelled.
The birth of militant groups in Niger Delta
Militant groups in the oil-rich Niger Delta region took hold in the early 2000s following the deterioration of people's living conditions blamed on the increase of oil-related activities by foreign exploration corporations. Tensions flared up in the local communities as some ethnic groups felt they were being exploited and did not benefit from the crude oil on their land.
The repeated oil spills that considerably damaged the environment and affected people's health further deepened the communities' frustrations. After being elected in 2015, Buhari extended a 2009 amnesty granted to 30,000 former militants in the area.
---
Nigeria up close: Check out our Flipboard magazine
---