No Man's Sky patch brings bigger space battles and new sound effects
The new patch addresses multiple bugs and improves the size and scale of space battles in No Man's Sky.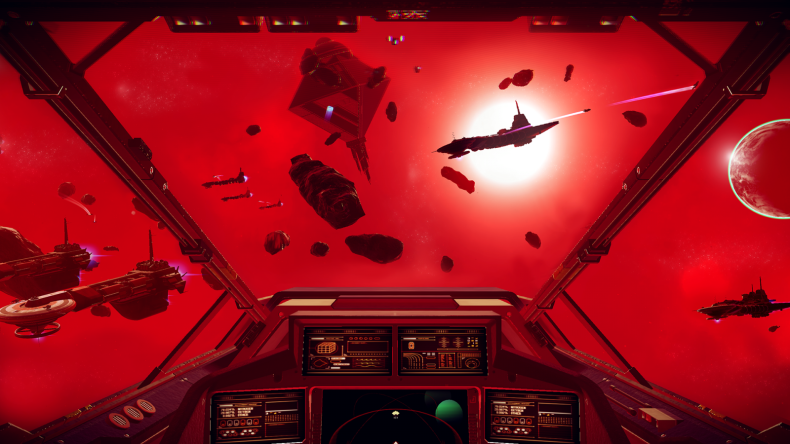 Hello Games has been on a mission to improve its controversial space exploration No Man's Sky since the release of its massive, long-awaited Foundation update. The UK-based developer has released a new patch for the game that addresses various bugs and gameplay issues including improving the size variance of space battles.
The new patch 1.13, which is currently available to download, fixes multiple technical issues and squashes several bugs, including one that would make the player character appear small and another that caused an infinite death loop that could occur in the new survival mode if you saved with just 1 health and no hazard protection.
The patch also includes a few audio changes as well including the addition of sounds for climbing ladders, a new sound effect for calling in Freighters, and another when using communication changes. It also changed the sound when using the Terminus Teleporter and fixed a few more rare crashes.
However, YouTuber Sirian Gaming recently found another bug that enables players to land their freighter on a planet. To do so, players will have to deftly and precisely call in their freighter the second they enter a planet's atmosphere.
Here are the complete patch notes for update 1.13:
Fixed a bug that would make the player character small
Space battles will now vary in size more and players should see bigger battles.
Fixed the instantaneous death loop that could occur in survival mode if you saved with 1 health and no hazard protection. You will still be on the verge of death when you load in, but it won't happen instantaneously.
Fix for steam controller not being able to warp.
Removed up, down, left, right as quick menu navigation keys to allow left handed players to move while using the quick menu.
Page Up and Page down can now be used to navigate up and down in the quick menu.
Removed duplicated planets from discoveries menu.
Fixed an issue with redeeming promo ships in survival, which would result in the ship being spawned above the ground.
Fix for missing ruins underwater which could cause missions to point to nothing.
Various audio tweaks and fixes:
Added ladder climbing sounds
Fixed base building prop sounds not playing when placed inside a Freighter.
Added sound effect for calling Freighters.
Added sound effect when using communication stations.
Fixed an issue which could affect ambient sound in Freighters.
Changed the sound effect when using the Terminus Teleporter.
Last week, Hello Games released another patch 1.12 that added a new "mod detection" tool and fixed multiple bugs and rare crashes that popped up after the Foundation update was released.
After months of fierce criticism, a barrage of user complaints and little communication from the Hello Games team since the game's August release, the developer launched the huge Foundation update in November that "adds the foundations of base building and is a foundation for things to come." They also noted that the patch was the first of many free updates.
"If you could have lived our lives over the last months, you'd know how meaningful this is," studio found and creative director Sean Murray tweeted.
UK's Advertising Standards Authority recently cleared Hello Games of false advertising allegations, ruling that the game's ad "was consistent with gameplay and the footage provided" and "did not exaggerate the expected player experience of the game."
No Man's Sky is available now for PS4 and PC.