No Man's Sky update files reveal ground vehicles could be coming in future patch
Hello Games recently released the massive Foundation update after months of silence.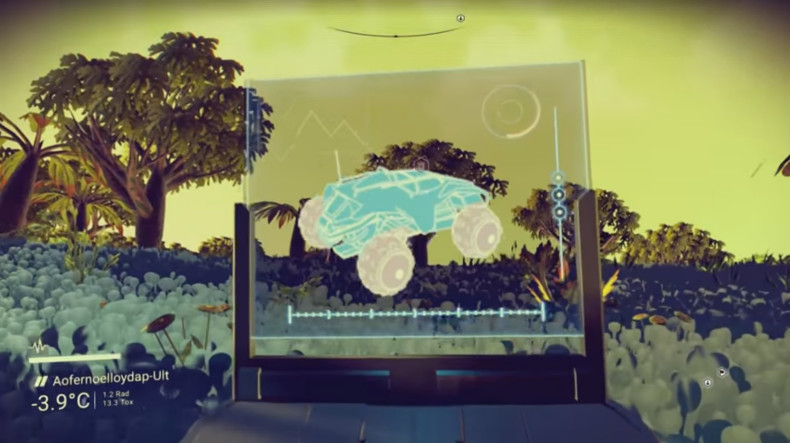 Hello Games released a huge, long-awaited update called Foundation update for No Man's Sky this week, adding a series of new features, fixes and more to the controversial space exploration sim. However, it didn't take too long for eagle-eye data-miners to scour through the update's files for clues about some of the upcoming features in store.
In a folder named "Buggy," Reddit user eegandj found textures and models for what seems to be a four-wheel, land-based space vehicle that could allow players to make their way across the game's vast and stunning planets.
The files included textures for tire tracks and a 2D animation of a rotating buggy. The user also managed to import the data into the game to use as a mod titled "Land Vehicle Test," and released a video showing off what the ground vehicle could look like.
The developer has yet to confirm whether it does plan to introduce a buggy vehicle into the sci-fi game.
Although the existence of these files does not mean a buggy vehicle will definitely make it to the game in a future patch, their inclusion in the latest update does suggest that the idea of ground-based vehicles is being considered as a possible addition to the game.
Hello Games said the Foundation update will be the first of many free updates, "adds the foundations of base-building and is a foundation for things to come." Besides base-building, the update introduces a litany of new features including farming, new game mods, the ability to purchase massive, customisable interstellar freighters and various visual improvements. It also featured a series of bug fixes and other general tweaks as well.
"If you could have lived our lives over the last months, you'd know how meaningful this is," Hello Games founder and creative director Sean Murray tweeted.
The development team said its latest update is not its biggest, but is the "first step in a longer journey." Since the game's release in August, Hello Games has released a series of patches to address its multiple technical woes, but did not feature any new gameplay content. The last such patch was released on 24 September.
"In the nine weeks since then, our small team has been hard at work on development, testing and certification for the Foundation Update," Hello Games wrote in a blog post on 25 November. "It won't be our biggest update, but it's the start of something.
The team also responded to the bombardment of criticism, complaints and controversy the game went through over the past few months.
"The discussion around No Man's Sky since release has been intense and dramatic. We have been quiet, but we are listening and focusing on improving the game that our team loves and feels so passionately about," the team wrote. "Positive or negative feedback, you have been heard and that will truly help to make this a better game for everyone."
No Man's Sky is currently available for PS4 and PC.