No Man's Sky Path Finder update adds new vehicles, permadeath, photo mode and more
Hello Games says the huge new Path Finder update 'shows the path for the future'.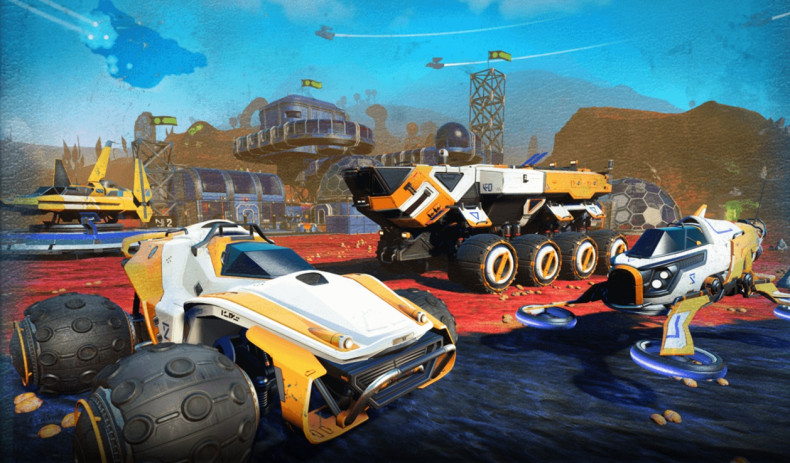 Hello Games has released its massive new Path Finder update for space exploration game No Man's Sky, introducing new planetary vehicles, a permadeath mode, PS4 Pro support, base sharing and more.
Announced earlier this week, update 1.2 is the second major post-launch content update since No Man's Sky's troubled release in August, following the Foundation update in November. The update has been detailed on the No Man's Sky website and in a trailer embedded below.
The update introduces new Exocraft vehicles allowing players to explore and make their way across their home planet in No Man's Sky's vast universe.
"These land-based vehicles give new meaning to planetary navigation, combat and mining - and can be summoned from anywhere on the planet they were constructed upon."
There are three types of Exocrafts - a speedy but small Nomad hovercraft, the four-wheeled, all-terrain Roamer and the huge Colossus that's perfect to collect resources and cargo. Users will also be able to take part in Exocraft races by finding an interesting planet, building a race circuit, creating a time trial and challenging other players to beat it.
The update also features a challenging new Permadeath mode in which "the consequences of death will be absolute."
"The difficulty level of Permadeath mode mirrors Survival mode," the developer notes. "Survival mode difficulty has been further increased. Dying in space will now restart you on the nearest planet's surface, away from your crashed ship."
Players will be able to unlock new Survival and Permadeath trophies as well.
The Path Finder update also introduces a new dedicated photo mode for players to document their journey through the massive, visually stunning universe that allows gamers to adjust the angle, change the time of day, tweak cloud layers and fog density and even add filters to their photos.
With the new base-sharing feature, players will be able to share their bases online via the Steam Workshop and let other players discover, explore, rate and subscribe to different outposts.
Players can now own and collect multiple starships to store on your freighter, which are divided into four categories - Shuttle, Fighter, Hauler and Explorer.
"Shuttles are all-rounders, Fighters specialise in combat, Haulers have expanded cargo holds and Explorer vessels feature increased warp capabilities," Hello Games writes. "In addition to new ship types, all ships will now be class-rated: A, B, C or the ultra rare S class."
You can also trade in your current ship for a discount while purchasing a new one.
Multi-tool specialisations and classes have also been added where you can choose between pistol, rifle, experimental and alien specialisations.
Three new weapons - the close-range Scatter Blaster, mid-range Pulse Spitter and long-range Blaze Javelin - can be installed into multi-tools. Meanwhile new ship weaponry includes the Cyclotron Ballista, Positron Ejector and Infra-Knife Accelerator.
No Man's Sky has also received a slew of new visual updates and graphics features including higher resolution textures, more accurate ambient lighting and HDR mode for compatible monitors and TVs. The update also added PS4 Pro support allowing for 4K resolution gameplay, improvements to the Discovery menu and more customisation options for base-building.
British instrumental electronic rock band 65daysofstatic has recorded eight new soundscapes for in-game as well as plenty of new loading music.
More details about the Path Finder update, in addition to the patch notes, can be found on the No Man's Sky website.