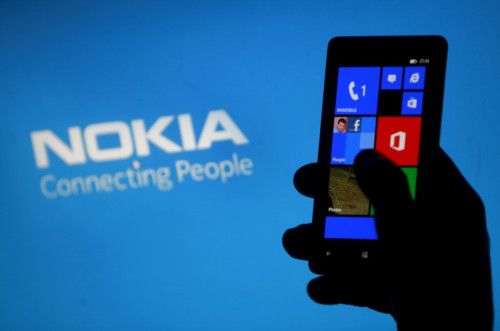 Sales of Nokia's now-discontinued Devices and Services division - which includes the Lumia smartphone range - fell 29% in the fourth quarter compared to the previous year.
The company's discontinued operations, including the Lumia brand which is to be taken over by Microsoft, saw net sales of €2.6 billion (£2.1bn), down more than a quarter from the €3.7bn recorded a year ago - sales were down 5% from the previous quarter.
Nokia did not initially reveal specific sales figures for its Lumia devices, but later announced 30 million for the year, implying 8.2 million for the fourth quarter based on known figures from the rest of the year. This is down slightly on the 8.8 million Lumias sold in the previous quarter.
Operating profit for the discontinued operations came in at a €191 million loss, compared with a €47m loss a year ago.
'Lower smart device sales'
The fall "was primarily due to lower Mobile Phones net sales and, to a less extent, lower Smart device net sales," the company said.
Nokia added: "Our Smart Devices net sales were affected by competitive industry dynamics including the strong momentum of competing smartphone platforms, as well as our portfolio transition from Symbian products to Lumia products."
The lack of Lumia sales figures will raise concern among Microsoft investors, who could have done without a dip in profits during Nokia's final quarter of ownership, before Microsoft takes over its phone-making business.
As a whole, Nokia posted revenue for the fourth quarter of €3.5 billion, down 21% on the same quarter last year, while operating profit came in at €274 million, down 17%.
Sales fall across all three remaining Nokia businesses
Nokia's HERE mapping products saw a 9% fall in sales compared to last year, down from €278m to €254m, while its Advanced Technologies division fell 20% from €151m to €121m.
The company's Solutions and Networks business, which will be Nokia's largest operation once its phone-making department is sold to Microsoft, saw sales fall 22% from just under €4bn to €3.1bn; operating profit fell 35%.
Nokia announced it has extended a patent license agreement with Samsung for five years, meaning the South Korean phone maker will pay compensation to Nokia for the period commencing 1 January, 2014; the amount to be paid will be settled in a binding arbitration, which the company expects to be concluded during 2015.
Watershed moment
Chairman and interim CEO Risto Siilasmaa said the fourth quarter of 2013 was a "watershed moment" in the company's history. "Having received overwhelmingly strong support from our shareholders at our extraordinary general meeting in November for the sale of our phones business to Microsoft, we are diligently working towards defining Nokia's future direction."
Siilasmaa, who took over from former CEO Stephen Elop in September, said he was "excited by the opportunities ahead for each of our three continuing businesses: NSN [Nokia Solutions and Networks], HERE and Advanced Technologies."
For its HERE division, Nokia sees "long-term transformational growth opportunities" in the automotive market, as the company looks to bring its mapping products to cars.