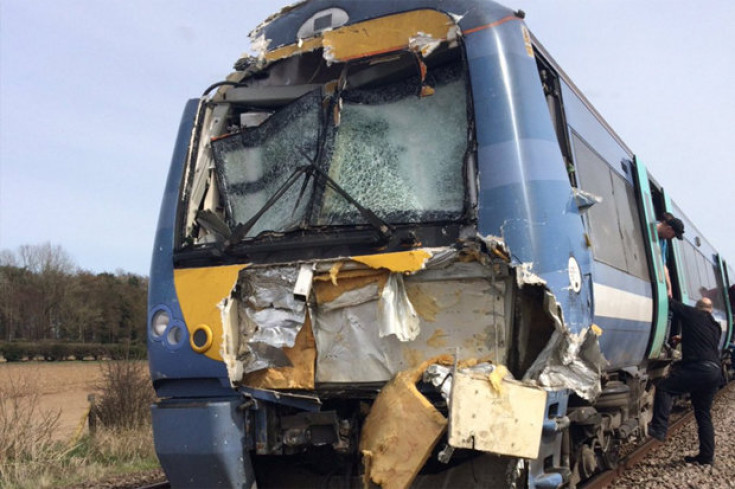 An Abellio Greater Anglia train carrying passengers on the 12.08pm service to Cambridge has reportedly crashed at a level crossing in Norfolk, injuring 20 people and leaving a tractor driver seriously hurt, British Transport Police have confirmed.
The passenger service was carrying 135 passengers, reports the Mail Online, when it crashed into a tractor at the track crossing in Roudham, near Thetford, today. Police, ambulance and fire services were called to the scene at around 12.30pm.
Tom Smith, who was on board the service, posted on Twitter: "My train just crashed into a tractor on the line, thankfully no one seriously hurt on the train. Hopefully the tractor driver is ok as well'.
Later, he then posted: "@greateranglia Dont know how the driver survived. He did an excellent job to keep everyone safe. #Thetford"
Alex Youngs, who was also on board, shared photos of what appears to be shattered carriage windows and passengers being evacuated onto the tracks.
"Everyone seems ok, driver injured but only panic attacks reported," he wrote before continuing a few minutes later: "Tractor driver seriously injured, otherwise injuries minor." The driver of the tractor is reported to have been air lifted to hospital.
People travelling in the Norwich area have been warned to expect delays and are advised to check with National Rail before departing on their journeys.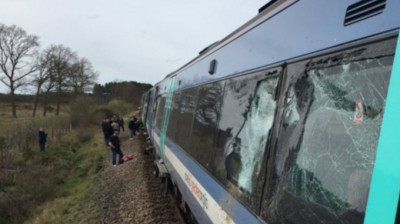 According to further reports, four ambulances, one rapid response vehicle, Hazardous Area Response Team and the East Anglian Air Ambulance attended, a spokesman added according to further reports by The Daily Mail.
Ten of the twenty injured are in hospital being treated for minor injuries, while a further ten were treated at the scene of the accident.
The reason for the crash at the level crossing is not yet known.