North Korea has launched four ballistic missiles and intensified tensions in the region, sparking an angry response from neighbours South Korea and Japan.
The missiles flew 1,000km and landed in the Sea of Japan. Three of them came down inside Japan's exclusive economic zone (EEZ).
No damage was reported in the area but the launches triggered a sharp response from the leaders of Japan and South Korea.
Although experts had failed to exactly identify the type of missile launched, at least one of them was thought to be an intercontinental ballistic missile (ICBM) – a weapon that could theoretically reach the US mainland.
Seoul's military said all the four projectiles were fired from North Korea's Tongchang-ri region, near the Chinese border, at about 7.30am local time (10pm GMT Sunday 5 March).
They came as the US and South Korea continued with lengthy joint military exercises, dubbed Foal Eagle. Pyongyang said those operations were a rehearsal for an actual invasion.
South Korea's acting president and prime minister Hwang Kyo-ahn said: "We strongly denounce the move as it can be considered a challenge and a grave provocation to the international community.
"North Korea's nuke and missile provocations are real and imminent threats to people's lives and security."
The reclusive North Korean regime is officially banned from carrying out any kind of missile or nuclear tests by the UN but has frequently flouted the ban.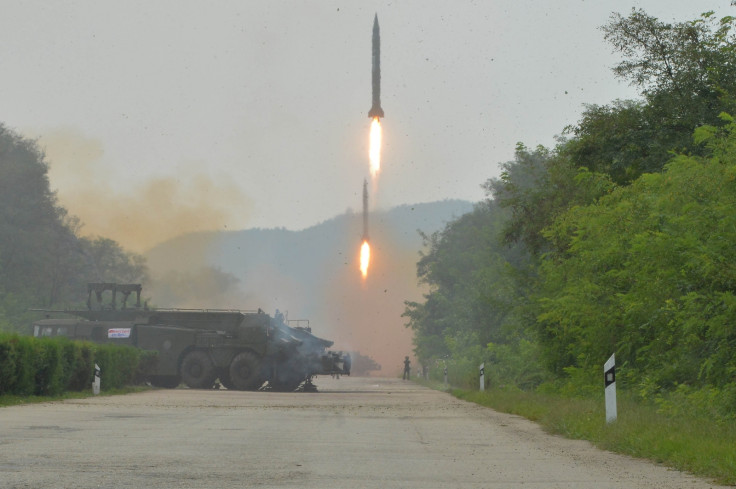 Japan also registered a strong protest, accusing Kim Jong-un's regime of provocation and belligerence.
Prime Minister Shinzo Abe said: "The launches are clearly in violation of Security Council resolutions. It is an extremely dangerous action."
Abe has put Japanese forces in the region on high alert.