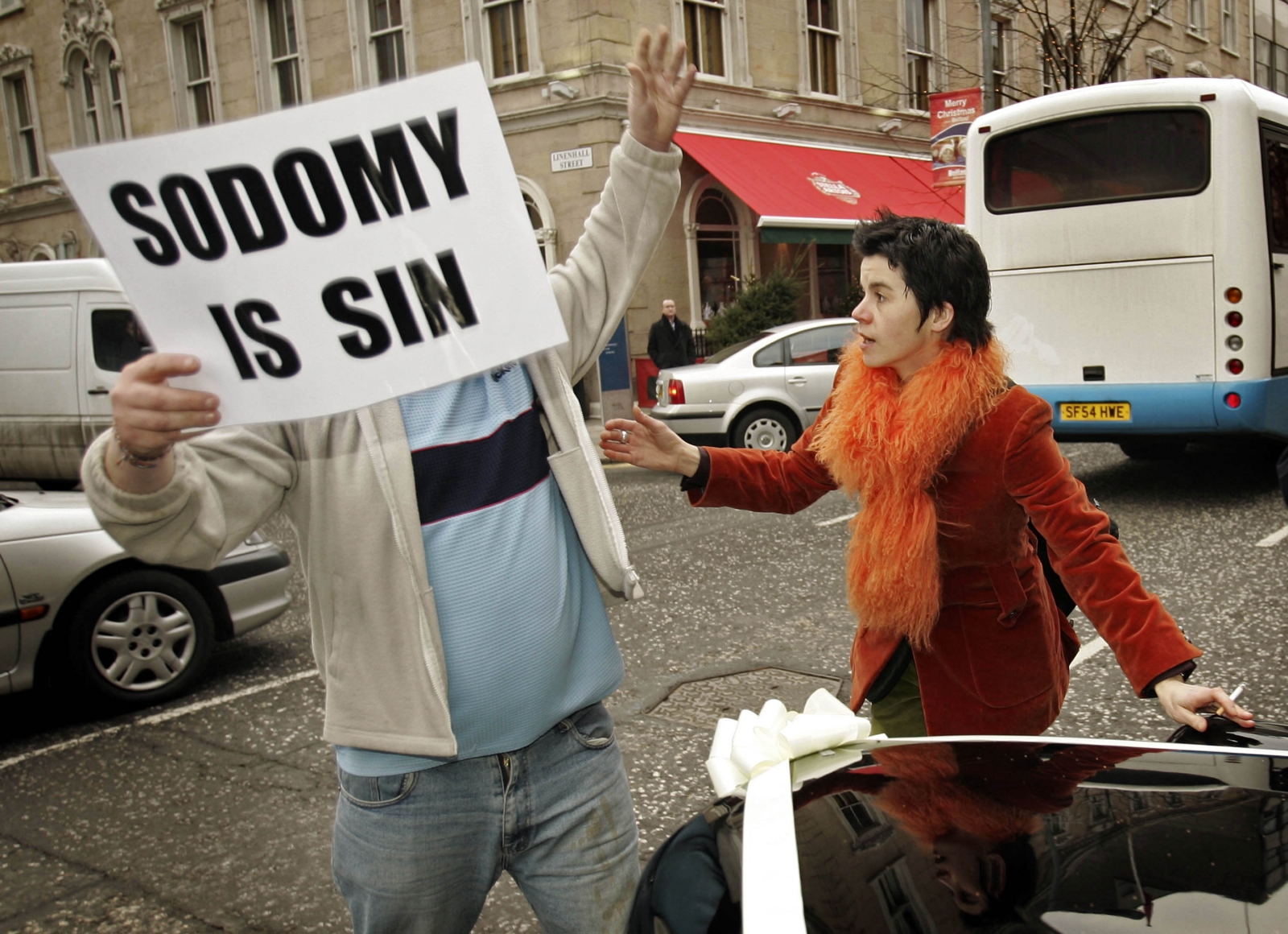 The Democratic Unionist Party of Northern Ireland's anti-gay clause attacked by Sinn Fein and Equality Commission.
The DUP is seeking to add an anti-gay clause to equality laws that would allow businesses to refuse service to LGBT people. Feedback on the anti-gay amendment takes place on Friday 27 February.
Paul Givan, DUP minister has tabled a bill in the Northern Ireland Assembly that would effectively exempt people with "strongly held'" religious convictions from equality laws – allowing them to discriminate against gay people.
The clause states that businesses could refuse service where someone feels they are required to "endorse a same-sex sexual relationship in violation of his/her faith identity."
Under the amendment, a gay couple could be refused the rental of a house or refused entry to a restaurant.
First Minister Peter Robinson has backed the bill but pro-equality politicians from Sinn Fein and other parties have joined together to stop the so-called 'conscience clause', although it will still go to a vote.
The bill was introduced by DUP minister Givan after the Equality Commission said it would take legal action against Ashers Bakery following its refusal to bake a cake with a pro-gay marriage message iced on top.
The commission took the case on behalf of the gay man who requested the cake, claiming the family-run bakery had been in breach of legislation preventing discrimination, according to the Belfast Telegraph.
Dr Michael Wardlow of the Equality Commission wrote: "The Commission does not support either of the proposed amendments to Equality Act (Sexual Orientation) Regulations (Northern Ireland) 2006 ("Sexual Orientation Regulations") as set out in the draft Bill.
"We believe that, if introduced, the proposed amendments would significantly weaken protection against discrimination in Northern Ireland for lesbian, gay and bisexual people when accessing goods, facilities and services or buying or renting premises."
John O'Doherty, director of The Rainbow Project said: "We believe this conscience clause will create a licence to discriminate for those who oppose the LGBT people here in Northern Ireland.
"We don't believe we should be treated as second-class citizens. We want to ensure equality for our entire community and we're looking forward to many people across Belfast, Derry and Newry standing in solidarity with us today in opposition to this draconian legislation."