Norway is said to make an appeal on Tuesday (10 January) against a lower court's ruling that the country violated human rights in mass murderer Anders Behring Breivik's case. The court found that the accused, who was charged for killing 77 people in 2011, was reportedly treated in an "inhuman and degrading" manner in prison.
Lawyers defending the state will be arguing at a higher court from 10 to 18 January — against the lower court's ruling — that the draconian measures used on the criminal was fully justified.
On 22 July 2011, the 37-year-old accused, a far-right extremist, first killed eight people by detonating a home-made explosive device outside the prime minister's office in Oslo.
He then massacred 69 others on an island of Utoeya, near the capital, where a summer camp for young centre-left political activists was being held. He was dressed as a policeman and targeted teenagers attending the camp.
During his trial, Breivik told a court that his attack was aimed to stop Muslim immigration into Europe. In 2012, he was sentenced to 21 years of imprisonment — the maximum in Norway.
In April 2016, the lower court found that the state had violated a ban on "inhuman and degrading treatment" under the European Convention on Human Rights. Breivik won the appeal against such a rough regime, which reportedly included hundreds of strip searches and regular use of handcuffs. He was also apparently not allowed to contact other inmates and was woken up often at night.
Breivik was also wrongly kept in a "locked" room for 22 to 23 hours a day, Judge Helen Andenaes Sekulic ruled. But he was thought to have been provided with the comfort of a three-room cell with a training room, newspapers, television, and a computer without internet access.
However, in recent months, Breivik's treatment at the detention centre has been slightly better, Reuters reported. His lawyers and prison officials like guards and health workers are thought to be the only contacts for him.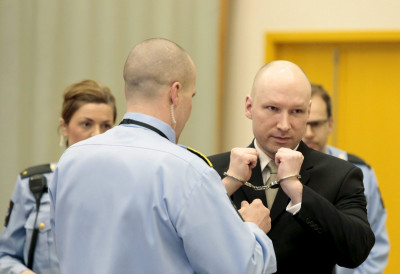 It has emerged that Breivik also plans to appeal separately after the Oslo court reportedly dismissed his complaints against the state of invading his privacy. However, Norway argues that the criminal's letters and other means of correspondence need to be censored to prevent him from inciting violence.
"It should be obvious that human rights laws apply to everyone irrespective of how atrocious their crimes [have been]," said Yuval Ginbar, a legal adviser at Amnesty International.