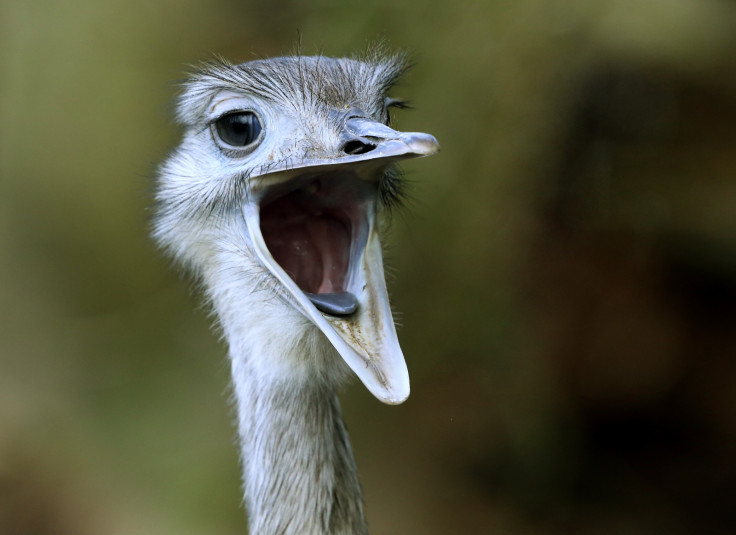 An "aggressive" 6ft ostrich-like bird is on the loose in Nottinghamshire after escaping captivity.
The rhea, which is related to the ostrich, escaped from a private collection in Carlton-in-Lindrick near Worksop late on Monday (22 June) or in the early hours of Tuesday, and remains on the loose, police said.
Nottinghamshire police warned that the bird poses a "very real threat" to the public.
Inspector Paul Peatfield said the public should alert the police if they catch sight of the animal.
The rhea whiter than an ostrich and flightless.
Insp Peatfield said: "We are warning local people, and particularly those with small children, to be on their guard and not to approach the bird, which poses a very real threat to the public due to its size, aggressive nature and the unfamiliar surroundings it could find itself in.
"Officers are working with the owner to trace the bird as we look to bring this incident to a safe conclusion."
Owner Alex Macdonald said, however, that the bird was currently helping to incubate eggs, and doubts it has wandered off.
"It's speculation but I think it's been taken. Nobody's reported it and it's something you would report if you saw it," he told the Press Association.
Bird expert David Lindo said that the birds like to hide and "melt into the countryside".
"It's a bird that will peg it as soon as it sees you... it's been very overrated in terms of the dangerous aspect of it," he told the BBC.
Rheas are native to South America and can run up to 30 miles an hour.
Anyone who spots the bird is asked to call police on 999.