Nvidia has announced its latest generation of notebook graphics processing units (GPUs) based on Maxwell second generation (GM2xx) architecture – the GeForce 980M and GeForce 970M.
The notebook GPUs are available immediately on 7 October, 2014, from original equipment manufacturers (OEMs) including Asus, MSI, Gigabyte and Clevo.
Nvidia punts these as powerful GPUs that will close the performance gap between the desktop and notebook gaming experience.
The nomenclature follows that of Nvidia's critically well-received Maxwell GPU desktop parts in the GeForce 900 series, which launched in September 2014.
| | GeForce GTX 980M | GeForce GTX 970M |
| --- | --- | --- |
| Process | 28 nanometer | 28 nanometer |
| Architecture | Maxwell | Maxwell |
| Processor Cores | 1536 | 1280 |
| Clock | 1038MHz + Boost | 924MHz + Boost |
| Memory Clock | 2500MHz | 2500MHz |
| Memory Interface | Up to 4GB GDDR5 | Up to 3GB GDDR5 |
| Memory Width | 256-bit | 192-bit |
| DirectX | DX12 | DX12 |
Along with the new notebook GPUs came the reveal of new graphics technology to be delivered to compatible cards through a driver update, as well as a new feature for GeForce Experience (Nvidia's user interface which has gone some way toward simplifying graphics settings tweaking). The latest GeForce Experience (GFE) version is scheduled for 7 October.
Nvidia new graphics tech
Nvidia explained that its ongoing GameWorks program now sees 300 full-time Nvidia engineers collaborating with game development partners to implement and optimise their various graphics technologies.
New GeForce drivers enabling these features should roll-out to users soon, although an exact date hasn't been pegged. The new graphics tech detailed below is only available on GeForce 800 series GPUs upwards, unless otherwise stated.
Dynamic Super Resolutions is Nvidia's method of scaling down 3K or 4K resolutions for display on common monitor resolutions (such as 1920 x 1080) while retaining the increased visual detail. Nvidia says this works by using "a 13-tap Gaussian filter. The resulting image is much higher quality than simply rendering directly to 1080p." The feature is enabled through GFE.
It will be interesting to see some technical analysis of this feature once it's out in the wild.
Multiframe anti-aliasing (MFAA) is a new AA technique that promises the quality of MSAA (Multisample AA) with less performance overhead. Nvidia explains:
MFAA varies the anti-aliasing sample patterns across pixels both within an individual frame and between multiple frames. It then uses a newly developed synthesis filter to produce the best image quality and does so faster than conventional anti-aliasing. For gamers, MFAA yields image quality approaching that of 4xMSAA at the cost of 2xMSAA - enabling titles to run faster while maintaining high levels of image quality.
Nvidia claimed there would be no perceivable input lag (a delay between gaming commands and on-screen results) which is sometimes a by-product of performing processing on 3D rendered video frames before they are delivered to the user's screen.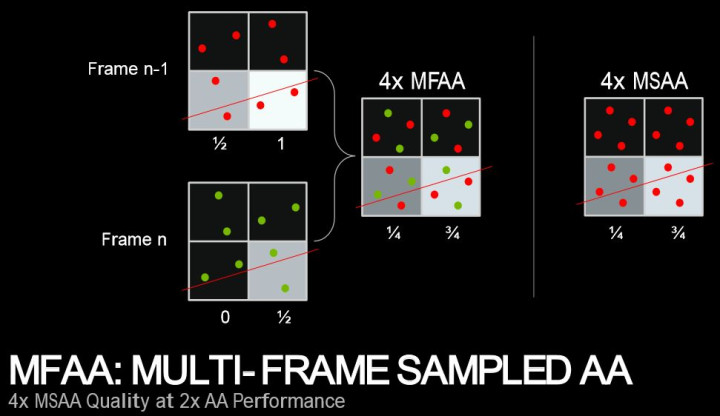 Voxel Global Illumination (VXGI) is a global illumination technique that promises improved lighting technology over traditional direct lighting techniques without a performance hit, bringing games closer to the holy 3D lighting grail of true ray-traced lighting.
Technically speaking, VXGI renders real-time dynamic global illumination, using 1-bounce indirect diffuse, specular, reflections and area lights. This means light reacts more realistically with 3D surfaces.
This lighting technology will be available on the likes of Unreal Engine 4 and other major 3D graphics engines from Q4 2014 and is part of Nvidia's GameWorks.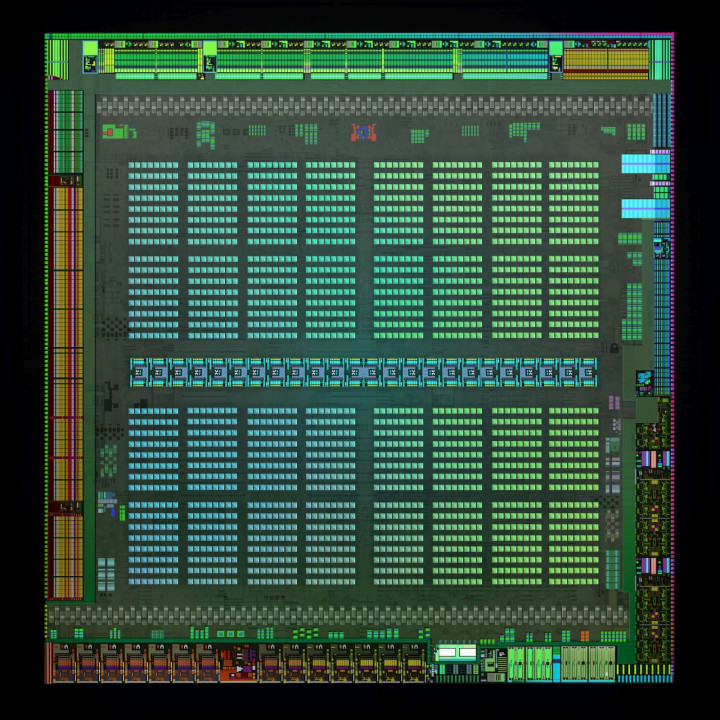 Battery boost is tech for notebooks, designed to improve performance and battery life while gaming unplugged from a power socket, and the new 900M series of chips will offer further improvements.
Typically while unplugged from a power source, a notebook battery cannot power a GPU to its full potential, resulting in decreased performance. Through design improvements, Nvidia has managed to lower power requirements and ostensibly squeeze more performance out of their new notebook GPUs.
The feature is delivered through the GeForce Experience software, but requires OEM notebook manufacturers to implement the tech. Nvidia says they have been working closely with OEMs to get Battery Boost integrated into their on-battery designs. This is only available on the GTX 800M and GTX 900M series of notebook GPUs.
On top of this, the new GeForce experience will feature one-click optimisation for games while using battery power, which will tweak settings to reduce load on the GPU while maintaining decent visuals, and thereby squeeze more life from the battery.