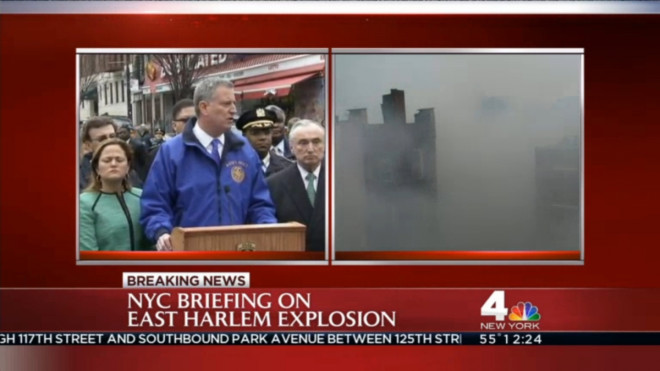 New York City Mayor Bill de Blasio has confirmed the major explosion that destroyed two buildings in Upper Manhattan was caused by a gas leak.
"From what we know now, the only indication of danger came about 15 minutes earlier when a gas leak was reported to ConEd," de Blasio said, adding that the energy company (Consolidated Edison) was shutting down all gas lanes going to the East Harlem building.
He added that two women were killed in the incident at the two six-storey buildings at the northwest corner of 116th Street and Park Avenue, and 18 were injured on different levels.
"There are a number of missing people, but could be they were away from the scene of the building explosion," the Mayor said.
Con Edison was called by a resident at 9:13am in a nearby building reporting a strong smell of gas that seemed to be coming from the outside - but the buildings collapsed while the utility company was on the way.
"There was no indication in time to save people," the Mayor said. "This is a tragedy of the worst kind. We have been shown what our first responders are capable of doing under extraordinarily difficult circumstances."
The head of NYC firefighters said that the next steps will be to put out the fire, remove debris and look for missing people. He predicted a "long, extended operation".
A Con Ed spokesperson said: "Our first knowledge of a gas leak in this building was at 9:13 this morning."