Four people were arrested on 20 June in connection with an FBI investigation into corruption by members of the New York Police Department. Two high-ranking NYPD officers were arrested on charges of taking bribes over $100,000 worth of prostitutes, free flights and extravagant meals in return for providing a "private police force" for businessmen.
Deputy Chief Michael Harrington and Deputy Inspector James Grant, along with Brooklyn businessman Jeremy Reichberg, were charged with conspiracy to commit honest services wire fraud. NYPD Sergeant David Villanueva, who was assigned to the gun license bureau, was also arrested on charges of conspiring to commit bribery.
In a news conference, US Attorney Preet Bharara said that in exchange for the bribes, Reichberg and others "got a private police force for themselves and their friends." Reichberg allegedly used his connections within the police department to receive several favours, including, but not limited to, getting tickets removed, receiving police escorts, getting help from uniformed personnel to solve personal disputes and speeding up gun license processing.
A January 2015 wiretap caught Grant advising Reichberg to tell a friend seeking a gun license to falsely claim to be a diamond distributor to speed up the process, the NY Daily News reported.
A criminal complaint attached to the charges allege Reichberg even used his connections to shut down a lane of the Lincoln Tunnel between New Jersey and Manhattan and received a police escort for a businessman visiting the US.
In exchange, Reichberg and others gave police officials over $100,000 in bribes from 2012 to 2015. Bribes ranged from home improvements, to prostitutes, to expensive dinners for Harrington and an unidentified police official once or twice a week for nearly two years.
Court documents revealed $59,000 were spent on a private jet in February 2013 to take Reichberg, Grant and an unidentified detective to Las Vegas. Reichberg and another businessman reportedly arranged for a prostitute to accompany the men over the weekend. The prostitute told investigators "Grant and others took advantage of her services" the criminal complaint revealed.
The arrests are the latest development in Bharara's several overlapping city, state and federal corruptions investigations. According to the Associated Press, the arrests come on the heels of months of information that has caused embarrassment for the police department and placed NYC Mayor Bill de Blasio in the spotlight regarding his campaign financing.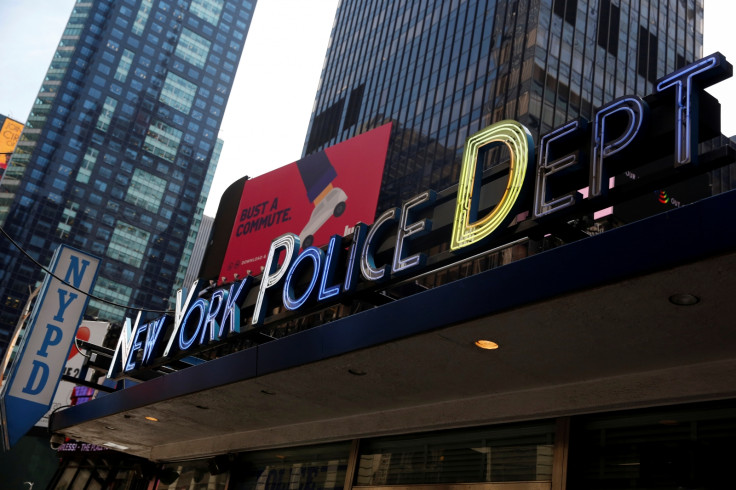 De Blasio received contributions from Reichberg and another businessman, identified as financier Jona Rechnitz, but has not been connected to any wrongdoing.
Harrington's attorney, Andrew Weinstein, claimed the charges against his client were politically motivated. "Chief Harrington is a loyal and devoted family man who has an unblemished record and has spent the last three decades working tirelessly to keep New York City safe," the attorney said. "One would be hard-pressed to find a straighter arrow in their quiver."
Meanwhile, Reichberg's attorney, Susan Necheles, insisted to the AP: "Mr Reichberg did not commit a crime."
According to the AP, Grant's union head declined to comment and his attorney, John Meringolo, said, "We believe Mr Grant did not commit a federal crime." Andrew Quinn, Villanueva's attorney, declined to comment.
All four men were released on bail. Villanueva was released on $200,000 bail, Harrington and Grant posted a $250,000 bail and Reichberg was freed on $500,000 bail. The NY Daily News said authorities announced on 20 June that Police Officer Richard Ochetal, a second former member of the gun licensing unit, had already pled guilty before being indicted. He is cooperating with FBI investigators.