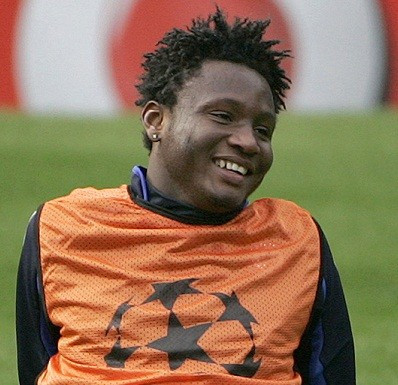 Chelsea confirm they have spoken to the police after Jon Obi Mikel deleted his Twitter account after he received racist abuse following their 2-2 draw with Juventus.
Mikel removed his account from the social networking site less than 24-hours after his mistake in the Champions League Group E game led to the Italian side equalising.
The Nigerian international gave away possession to Juventus, resulting in the ball being played upfield before substitute Fabio Quagliarella fired it past Petr Cech with 10 minutes remaining.
The club originally said it was entirely coincidental that the midfielder deleted his @Mikel12Official account and the player was unaware of any racist abuse.
However, last season's Champions League winners have now confirmed Mikel, 25, decided to delete his account because he received racist abuse and have now notified the police.
A club statement said: "We've been made aware of racist tweets targeted at Mikel which are totally unacceptable, disgusting and abhorrent.
"We've informed the police and support taking the strongest possible action."
Mikel did not hide away from his mistake after the game. He told reporters: "If I want to make up an excuse, I can. But, for me, I gave the ball away. I put my hands up, we move on.
"I'm sorry about the mistake, but there are no excuses."
Meanwhile, Tottenham Hotspur manager Andre Villas-Boas has urged UEFA to take action against Lazio fans who allegedly made monkey chants towards Spurs' players during their Europa League group game against at White Hart Lane.