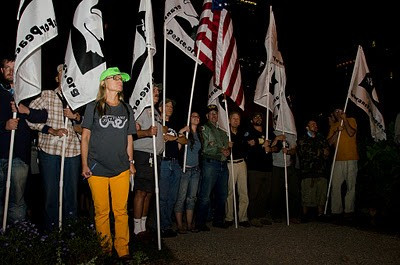 Following the arrest of as many as 50 participants in the Occupy Boston movement, hacker collective Anonymous has released images showing police violently apprehending protesters.
Reports emerged early Tuesday alleging that police had arrested more than 50 participants in the Occupy Boston movement for trespassing. The arrests reportedly began at around 1:30 a.m ET after protesters ignored warnings by the police to return to their official campsite.
The tensions began when participants in the Occupy Boston protest moved from their official Dewey Square campsite to the Rose Kennedy Greenway. Police had reportedly previously sent leaflets to the protesters confirming they couldn't use the Greenway.
Since news of the arrests broke, the Anonymous collective released a series of photos showing the arrests, alongside a statement criticising the police treatment of the protesters.
"This morning the biggest mass arrest in Massachusetts since a huge 1968 Vietnam protest," read the Anonymous statement.
"The protesters had moved from Dewey Square to a second site across the street. A local conservancy group recently planted $150,000 worth of shrubs along the greenway and officials said they were concerned about possible damage. MORE IMPORTANT SHRUBS THAN PEOPLE."
The arrests all occurred during an offshoot protest stemming from the original Occupy Wall Street movement in New York City. Since news of the arrests broke, the hacker collective has issued a statement promising to enact a revenge attack on the New York Stock Exchange. But the exchange said its site wasn't compromised.