The consumer version of the much-hyped Oculus Rift has been revealed ahead of its launch in 2016 and the virtual reality headset will be able to play Xbox One games.
Revealed at a press conference in San Francisco, the final version of the Rift headset will come with a desktop sensor which will work with the headset, allowing users to sit, stand and move around "a little bit" while wearing it.
Brendan Iribe, CEO of Oculus, revealed the lightweight headset and said that it would be available to consumers in the first quarter of 2016 - though he did not reveal how much the headset would cost.
The final version of the Rift looks significantly different from the two developer models which have been in use since the company launched on Kickstarter in 2012. Users will be able to adjust the distance between the two OLED screens depending on the distance between their eyes.
Iribe also said the balance of the headset had been "dramatically improved" and it would also be comfortable to use for those wearing glasses.
Each Rift will come with a sensor and a wireless Xbox controller in the box and by using the Xbox One's ability to stream games to a Windows 10 PC, users will be able to play games like Halo, Forza and Sunset Overdrive on the Rift.
There will also be a large range of games which have been designed from the ground up for virtual reality and some of these were shown off on stage also, including the space shooter Eve: Valkyrie from CCP Games which is based in the Eve Online world.
Oculus Touch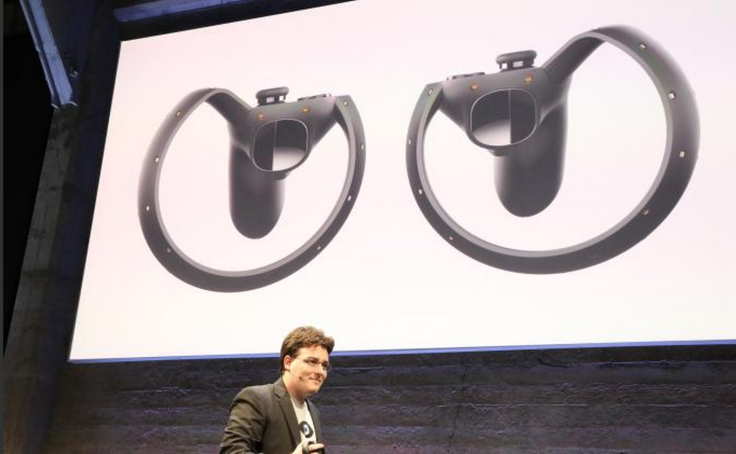 One of the most interesting aspects of the presentation was the revealing of the previously unseen Oculus Touch controllers. These wireless controllers will be held in users hands and will allow much more natural gestures in the virtual world, including hand movement and manipulation of objects with your fingers.
There was no indication from the company if these controllers would be available in time for the launch of Oculus Rift.
The company said that it was investing $10m (£6.45m) to help independent games developers create games for Oculus Rift.
With E3 set to begin on Sunday, virtual reality will feature heavily at the world's biggest games trade show. As well as Oculus demoing the consumer version of the Rift headset and its Touch controllers for the first time, we will also see announcements from Sony about Project Morpheus - its PS4 virtual reality headset - and the HTC Vive, a VR headset it is developing with games company Valve.
As for the price, in May, Iribe said that the entry price of the Oculus Rift – including a whole computer capable of using it with – will be around $1,500. Oculus want the headset alone to stay between the $200-400 price range.