Star Wars Rebels season 2 returns with an all new episode where Ahsoka Tano, Kanan Jarrus and Ezra Bridger team up to save potential Jedi, thereby saving the future of the Force. Episode 8 is titled, The Future Of The Force, which will air on Wednesday, 2 December at 9.30pm on Disney XD.
Warning: Potential spoilers ahead
According to the official synopsis, "The rebels learn that the Inquisitors are seeking out Force-sensitive children, and they work together to protect the young ones from the Inquisitors' pursuit."
The Disney XD animated series, which has been renewed for its third season, will get back to the Jedi business of protecting young ones from the Empire. In the episode, the Rebels team learns about Empire's plan of killing Force-sensitive children.
Click here to watch the episode via live stream. You can also watch the episode online on the Disney website.
In a new promo, Ahsoka and Kanan meet privately to discuss her findings on the mysterious Sith Lord and his Inquisitors. She believes the Jedi hunters have a secondary mission, and they will split up to investigate. Kanan sees Ahsoka and remarks, "This is unexpected. Don't get me wrong, its always good to see you, usually it means there is trouble." To which Ashoka replies, "What I have to say is Jedi business." Then, Kanan remarks, "Then I guess I qualify." All the while, Ezra is listening to their conversation.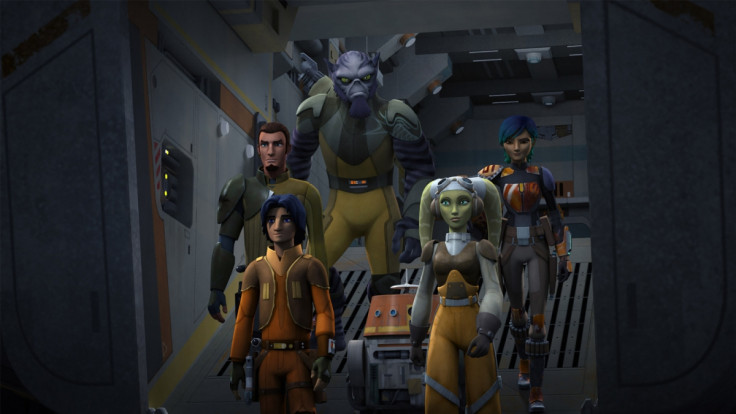 Kanan and Ahsoka enter a secret chamber where the latter says that she is monitoring a source to find out more about the Sith Lord. She adds, "Information about him alludes me. But I have learnt more about his inquisitors. Its seems they have a secondary mission."
Kanan then points out, "We know they hunt Jedi, so what else they are after?" Ahsoka tells him that she managed to decode two sets of co-ordinates and that she is on her way to investigate one, and asks him to check out the second. Ahsoka asks Kanan to join Ezra in the team, as he smiles and says, "He [Ezra] is already briefed on the mission." And as Kanan opens the door, we see Ezra falling near them, as he was eves dropping over the entire conversation. He says, "She [Ahsoka] did say it was Jedi business."
Another preview for the episode shows, two Inquisitors, the Fifth Brother and Seventh Sister seeking to destroy Ezra and an Ithorian baby, who are in an air duct. The Fifth Brother says, "We are close", and senses Ezra's presence in the air duct and jabs his lightsaber through.
Ezra uses the Force to calm the baby down, as Kanan and Zeb arrive to save them. The Seventh sister remarks, "Kanan Jarrus, you have crawled out of hiding."