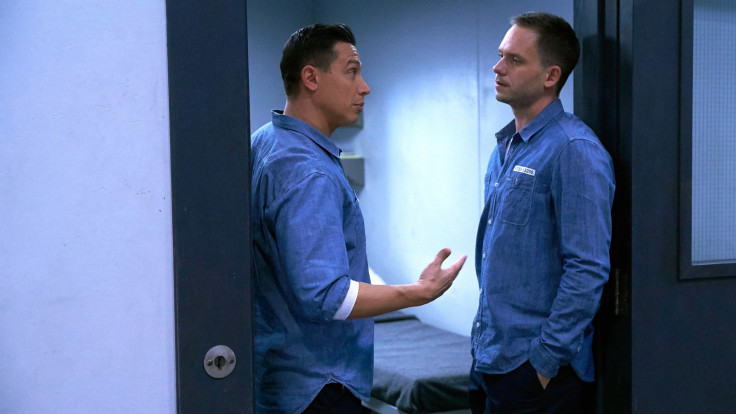 Mike Ross is already having a difficult time in prison and it seems like Frank Gallo will take their rivalry a step further in the upcoming episode of Suits season 6. Episode 4 is titled, Turn, which will air on 3 August at 9pm EST on USA Network.
In the same episode, Harvey Specter will try to persuade Mike into accepting Sean Cahill's deal which will ensure his early release from Danbury prison. Although it may resolve Mike's problem with Gallo, there is a catch to it – he will have to snitch on his cellmate and his only friend in jail, Kevin Miller.
Click here to watch Suits season 6 via live stream on the USA Network. You can also watch the episode online by clicking here (only in the US).
According to the synopsis for episode 4, Mike could consider Harvey's deal, while Jessica and Louis will be seen taking different approach to deal with the tenants of Pearson Specter Litt (PSL).
Meanwhile, the promo for the episode opens with Harvey telling Mike to become an informant, or as much as figure out a way to get what the authorities need out of Kevin.
Harvey says, "There is someone in here, trying to kill you. I am giving you a way out." To which Mike asks, "What's the catch?" Then we see Mike talking to Donna Paulsen about Harvey's deal. "If someone finds out i may never get back to Rachel at all."
Harvey also pays a visit to Cahill, wherein the latter gives him 24 hours to change Mike's mind. The promo ends with a shocking twist, with Mike feeling dizzy and struggling to walk. Kevin asks him, "Are you all right," and Mike replies, "Something is not right." He is then seen collapsing to the floor. The camera then pans out and Frank Gallo, who is quietly observing everything, is seen with a grin on his face.
Is Mike going to be okay? Will he take Harvey's deal and betray Kevin following this incident? To know more do not miss this Wednesday's episode of Suits season 6.