Two of the US's most iconic buildings showed their support for those affected by the mass shooting at the LGBT nightclub Pulse in Orlando, Florida. The Empire State Building shrouded itself in darkness in memory of the 50 people who lost their lives during the 12 June massacre.
The iconic building in New York switched off its focus lights later that night "in sympathy for the victims of last night's attack in Orlando". One World Trade Center was lit up in the colours of the gay pride flag as a show of solidarity with the LGBT community.
New York Governor Andrew Cuomo told reporters: "From Stonewall to marriage equality to protecting transgender individuals to the first-in-the-nation executive action to ban conversion therapy, New York has led the way to fight for LGBT rights.
"In this state, we believe that no matter your race, creed, color, gender identity or expression you have the right to live your life free of persecution and prejudice.
"An attack on one is an attack on all. New York joins the rest of the nation in rejecting this hate, fear and extremism and stands shoulder to shoulder with the LGBT community.
"Tonight, I am directing One World Trade Center to be lit the colours of the pride flag in a tribute to LGBT Americans and the lives that were lost. On behalf of all New Yorkers, I extend my deepest thoughts and prayers to those affected by this horrendous tragedy."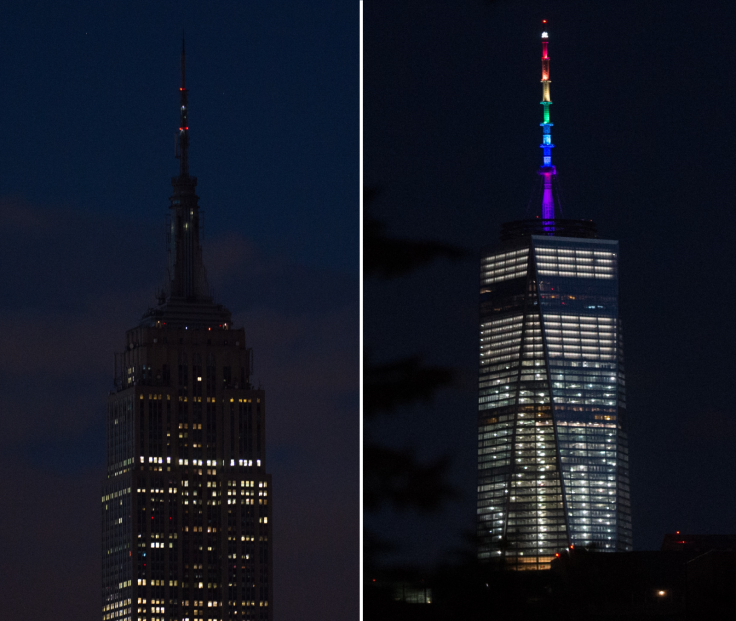 New York Mayor Bill de Blasio announced that all flags would be flown at half-mast in NYC and security had been strengthened in popular LGBT areas of the city. He confirmed that no threats had been made towards the Big Apple.
"You'll see a lot of additional police presence on the streets of the city. No city in the world is better prepared to stop terror, to stop hate," he said in the wake of the shooting.
"This senseless act of terror reminds us that there are those who seek to undermine these very values and the progress we have achieved. We will not let this happen."