The gunman who went on a shooting rampage in Orlando on Monday (5 June) targeted his victims and had a "negative relationship" with at least one of them, according to Orlando County Sheriff Jerry Demings.
John Robert Neumann Jr, 45, was identified as the shooter who killed five employees at Fiamma Inc before turning the gun on himself.
"He was certainly singling out the individuals he shot," Demings said to reporters.
Demings said Neumann pointed a gun at a new, temporary employee and told her to leave the business before shooting his victims.
The woman ran out and called 911 from across the street, The Washington Post reported.
State and federal law enforcement officers responded to the scene within three minutes, Demings said. Neumann shot himself after a survivor heard a siren approach. The shooting was over within a few minutes of the initial 911 call.
According to CNN, the victims were identified as 69-year-old Robert Snyder; 44-year-old Brenda Motanez-Crespo; 53-year-old Kevin Clark; 46-year-old Kevin Lawson; and 57-year-old Jeffrey Roberts. Demings said three men and a woman were found dead at the scene. A fourth man later died at Orlando Regional Medical Center.
"Most of the victims were shot in the head," he said. "Some were shot multiple times." Eight other people were inside the business during the shooting, he added.
Neumann, who had been fired by Fiamma Inc in April, was a disgruntled former employee who was working alone and did not have ties to terror groups, police said.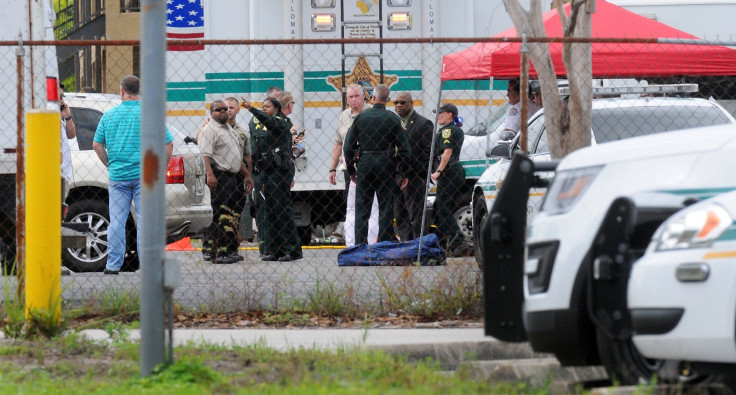 A battery complaint against Neumann at Fiamma was reported to police in 2014. The victim of that incident was not among the victims of the shooting.
Demings said Neumann lived alone and did not have family in the area. Neumann, an Army veteran who was honourably discharged in 1999, did not appear to have a concealed weapons permit for the semi-automatic pistol he used, Demings added.
Neumann had a minor police record going back more than 20 years that included arrests for theft, probation violation and marijuana possession, the Post reported.
The shooting was just a few days before the one year anniversary of the Pulse nightclub shooting in Orlando. A gunman killed 49 people in the worst terror attack since 9/11 on 12 June 2016.
"Over the past year, the Orlando community has been challenged like never before," Florida Governor Rick Scott said in a statement. "I will remain in contact with the Orlando law enforcement community throughout the day as more information is made available."