A lawyer for Paralympian Oscar Pistorius, Barry Roux, has been overheard saying he will "lose" during an appeal hearing today (3 November 2015) at which prosecutors are attempting to have his manslaughter verdict changed to one of murder. Roux was reportedly heard saying to state prosecutor Gerrie Nel: "That I am going to lose is a fact."
Roux said he "cannot remember exactly" what was said during the Supreme Court of Appeal in Bloemfontein when his microphone was accidentally left on after court adjourned. According to state prosecutor Gerrie Nel, Pistorius had intention to kill his model and law graduate girlfriend Reeva Steenkamp on Valentine's Day 2013, and should have been given a murder conviction.
"The court ignored the most important circumstantial evidence," said Nel, reported The Guardian. Nel has argued that trial judge, Thokozile Masipa should not have relied on Pistorius since he was already deemed an unreliable witness. Meanwhile, Pistorius's defence lawyer has argued that these arguments are not sufficient ground for an appeal.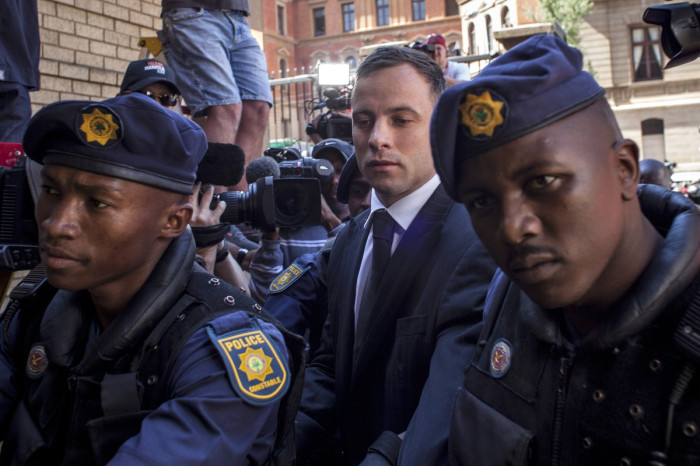 Meanwhile, Reeva Steenkamp's mother June has said Pistorius's 11-month prison sentence was "too short a time for taking somebody's life." June also said she has "nothing to do" with the appeal hearing as that would never bring Reeva back.
28-year-old Pistorius escaped murder charges when Pretoria High Court Judge Masipa sentenced the Paralympian to five years for the culpable homicide of his girlfriend Reeva Steenkamp. Pistorius was to be released from jail on 21 August on probation after serving 10 months of his five-year prison term, however South Africa's Justice Minister Michael Masutha ruled against it saying the correct procedure has not been followed.
Pistorius is now serving the remainder of his sentence under house arrest after being released from prison in October. The outcome of the appeal remains uncertain, but if convicted of murder Pistorius will face a minimum sentence of 15 years.