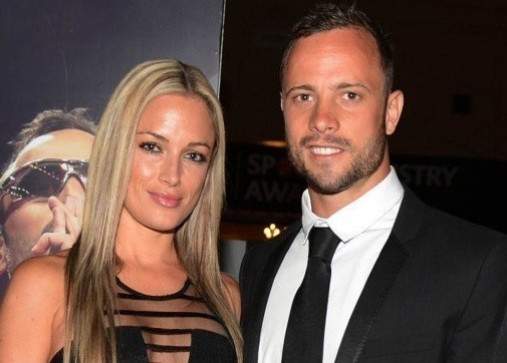 Oscar Pistorius has "vigorously" denied he was "knocking back" shots and that he groped a woman while on a night out in Johannesburg.
The athlete, who is accused of murdering his girlfriend Reeva Steenkamp and will stand trial in June, was spotted by onlookers with friends at a party at the Kitchen Bar restaurant.
One woman at the venue said Pistorius' behaviour was not that of a man who was grieving the death of his girlfriend.
She told South Africa's Sunday Times: "He was drinking shooters and he was flirtatious. He didn't seem like someone [who had] lost the love of his life.
"He was greeting a couple and then gave the woman a little pat on her backside. It was just so inappropriate."
Another guest added: "One moment we are all talking and laughing and the next, in walks Oscar," one said. He's the last person we expected to see ... I can't believe he showed his face in public, carrying on as if nothing's happened".
Pistorius successfully overturned one of his bail conditions set in March that stipulated the athlete could not drink alcohol.
Trying to reconnect
Defending his night out, Pistorius' spokeswoman Anneliese Burgess said: "[Oscar] strenuously and vigorously denies any inappropriate behaviour towards any people or women present, or 'partying it up' with shooters.
"Oscar did go out last Saturday with friends. It was the first time since the tragic and horrific events of the 14th of February that Oscar went out with friends. He has been out of the house with family, but this was the first time he went out to a restaurant with people other than close family.
"For Oscar, it was a way of trying to reconnect with friends of his and Reeva's - and these were the people he was out with.
"It is regrettable that what was supposed to be a low-key evening reconnecting with friends is now being blown out of proportion for sensational reasons."
Last week, reports suggested Pistorius is becoming more active since he shot Steenkamp dead at his home. Since the shooting, he has largely remained out of the public eye and has been staying at the home of his uncle Arnold.
Burgess said the athlete had begun "interacting with people" after being "very isolated", but said he was still in mourning over Steenkamp's death.
"There is not a moment in the day that Oscar does not mourn for his girlfriend and Reeva's family, and all those who were close to her are in his thoughts constantly," a statement from the Pistorus family said.