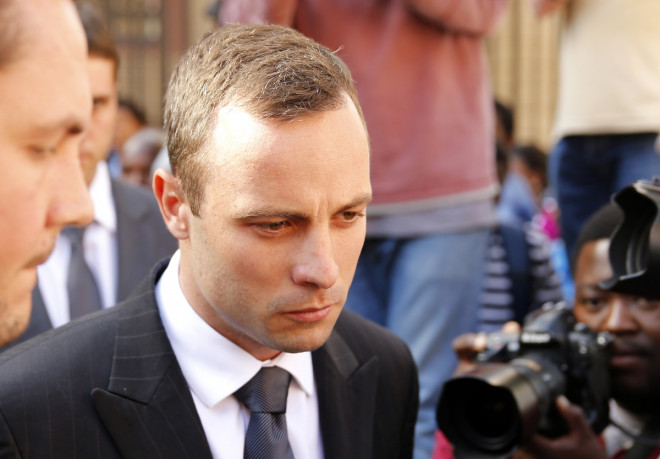 Oscar Pistorius loomed over a friend of shooting victim Reeva Steenkamp and whispered to her in a "sinister" tone, "How do you sleep at night?" at his murder trial, it has been alleged.
Track star Pistorius reportedly made the remark during a break in proceedings. The incident was branded "very disturbing" by her lawyer.
Kim Myers's claim that she was approached by the runner could result in him being investigated for intimidation, according to reports from South Africa.
Myers was a friend of Steenkamp and the sister of her best friend, Gina Myers.
Her family lawyer, Ian Levitt, said: "My client Kim Myers was approached by Oscar Pistorius in court today and, in a very sinister tone, was asked, 'How do you sleep at night?'
"My client views this unwelcome approach as extremely disturbing and I have been in contact with the national prosecuting authority."
Lawyers for the Paralympian and Olympian denied such contact between Pistorius and Myers ever happened. Brian Webber said: "I'm not even going to dignify that with a comment. It's grossly untrue. He never said anything of the sort."
Levitt accused Pistorius of "lying". He told reporters Myers had been approached "in the presence of some witnesses, so his denial is obviously a lie".
Steenkamp stayed occasionally with the Myers family in Johannesburg when Pistorius and she began dating. Cecil Myers, their father, has spoken previously about having a negative impression of the disabled runner based upon his "hasty, impatient and very moody" behaviour.
Pistorius's alleged conact with Kim Myers came on the day after proceedings resumed at North Gauteng High Court. It began in unusual fashion with a religious group calling on judge Thokozile Masipa to not jail Pistorius for killing Steenkamp – because he was "controlled by Satan" when he did it.
Pistorius denies premeditated murder and claims he mistook Steenkamp for an intruder inside his luxury home on the outskirts of Pretoria. The prosecution alleges he killed her following an argument between the couple.
Pistorius also faces charges of illegally firing a gun in public and of illegally possessing ammunition, both of which he denies.
The trial continues.