Reeva Steenkamp's family arrived at court looking emotional for the first day of proceedings in the trial which is set to capture the attention of the entire world.
June Steenkamp, on the left, attended North Gauteng High Court in Pretoria flanked by relations. Husband Barry Steenkamp was absent following a stroke he suffered late last week.
Oscar Pistorius arrived soon afterwards, wearing a black suit, for what promises to be the highest profile court trial on the planet over the next few weeks.
The start of the trial today (Monday) follows months of speculation about what really happened on Valentine's Day last year, when the disabled athlete known as Bladerunner gunned down the model and reality TV star.
Pistorius, 27, admits shooting dead Steenkamp, but claims he thought she was an intruder inside his luxury home in a gated community on the outskirts of Pretoria. He also faces a charge of possessing illegal ammunition.
The trial will decide whether one of the world's most recognisable athletes is sentenced to life in jail for pre-meditated murder and spends much of the rest of his life behind bars.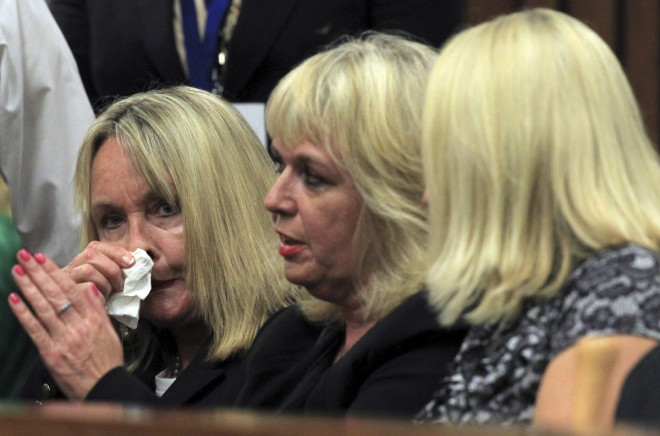 Speaking ahead of proceedings, June Steenkamp recounted an incident last year when her daughter phoned her in fear while with Pistorius. She recalled: "She [Reeva] was so afraid. She said, 'mummy, I'm in the car with Oscar and he's driving like a lunatic. Like a lunatic.'
"So I said, will you just give him the phone? She gave the phone to Oscar straight away. And I said 'if you hurt my baby, I will have you wiped out.'"
Pistorius's family issued a statement ahead of the start of the trial: "We will not be commenting on any media reports, nor will we be engaging the press on any issues that belong in court. The time for public commentary is over.
The focus is now entirely on a very serious trial that is set to start this Monday. We love Oscar, and believe in him, and will be standing by him throughout the coming trial."