Ottawa Shooting: Is Isis Targeting Canada?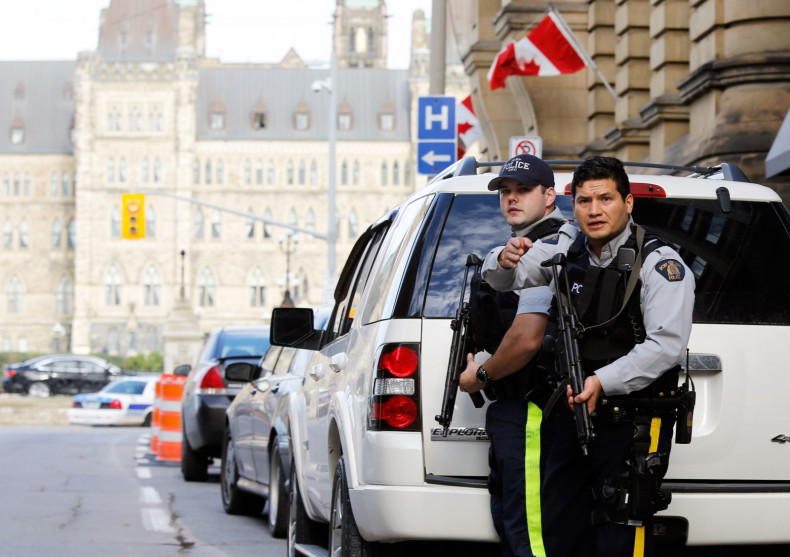 The man responsible for the Ottawa attack has been named as Michael Zehaf-Bibeau, 32, a Muslim convert from Quebec.
Both men had had their passports seized to prevent them travelling abroad, and fears have emerged that jihadist group Islamic State may be responsible for the attacks - and that there may be more to come.
Canadian Prime Minister Stephen Harper has branded both incidents terror attacks.
"This will lead us to strengthen our resolve and redouble our efforts, to fight against the terrorist organisations who brutalise those in other countries with the hope of bringing their savagery to our shores," he said today.
Canada is part of the international coalition combating IS in Iraq and Syria, with lawmakers recently voting to send six fighter jets to take part in air strikes against the group.
Leaving Western Comforts for the Jihad
A number of Canadian citizens are known to have joined the militant group in the Middle East.
Earlier this year, Farah Mohamed Shirdon, a former student from Calgary in his early 20s, burnt his Canadian passport in an IS propaganda video, declaring to Canada: "We are coming and we will destroy you by the will of God."
He is one of about 130 Canadians who are believed to have travelled abroad to join terrorist groups, including about 30 who joined IS, according to a government report earlier this month.
Canadian police are believed to monitoring about 90 other people who intend to travel abroad to join the Islamist group, or have returned.
Among them was Andre Poulin, a Canadian believed to have been killed in Syria last year, who appeared in another recent IS propaganda video imploring sympathisers to leave behind the comforts of the West, and join the jihad.
''Before I come here to Syria I had money, I had a family, I had good friends,'' he said. ''It wasn't like I was some anarchist or somebody that just wants to destroy the world and kill everybody. I was a regular person,'' he said. ''We need engineers, we need doctors, we need professionals. Every person can contribute something to the Islamic State.''
'Wannabe' Strikes at Home
Despite Canada taking action to stop sympathisers travelling abroad to join the group, some experts believe that this may be leading those within the country to concentrate their efforts on domestic strikes.
CNN military analyst Ret. Lt. Gen. Mark Hertling told the station that Zehaf-Bibeau may have carried out the domestic attack in response to being barred from fighting overseas.
"I think what you have - whether you connect it to a cell in Canada, whether you connect it to someplace overseas - you have a wannabe," he said. "This is a guy who might not be able to get out of Canada, but he sees that he can cause some damage there. So, he has done that."
In September, the Canadian government announced a range of new measures new combat extremism, involving closer co-operation between community groups and government agencies to counter radicalisation.
Though no link has yet been established between IS and this week's attacks, experts argue that appeal of the terrorist group to young Canadians poses a clear future danger, with the group's apparent success in establishing an Islamic caliphate in the heart of the Middle East at the centre of its appeal.
"It does seem in Canada that the Isis situation resonates much more strongly than just the general al-Qaida jihadi narrative," Lorne Dawson, a professor and expert on radicalisation at the University of Waterloo, told Bloomberg. "They appear to be establishing an actual state, their military success speaks to, in their mindset, that God is on their side."