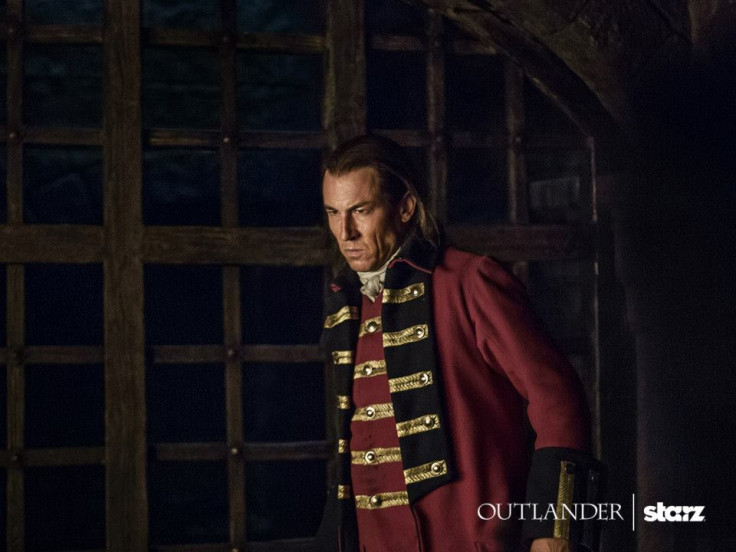 Warning: Outlander season finale spoilers ahead
Outlander season 1 finale is right around the corner and the last episode will reportedly focus on the rape and torture of Jamie Fraser (Sam Heughan) by Black Jack Randall (Tobias Menzies).
With this show, Black Jack clearly becomes one of the most twisted and sadistic characters to appear on television. Actor Tobias Menzies recently opened up to E! News about playing Black Jack and how he approaches the role.
"Jack, I would argue, is a study in sadism," Menzies explains. "He's interested in people's boundaries, their pain thresholds, what they can handle. It's a rather sickening investigation."
"In the portrayal of Jack, I had to understand the context out of which his behaviour comes. It's absolutely having to do with what his men have suffered, what he has suffered and what he's seen. He's seen too much."
When asked how the actor deals with playing a character like Jack Randall on a regular basis, while filming, and then turning back to himself when he goes home, Menzies replied:
"It would be a lie to say that I go home and shake it off. But it's what excites me as an actor when I see it and when I manage to do it myself, when there's lots of shades within the colors of the characters."
"It's true to life, isn't it? Nothing is one thing or the other. Jack is one of life's interesting contradictions. He does have some personal insight, he gets people and how they work but he chooses to abuse those rather than comfort them or reassure them. Diana wrote a lot of strong characters, but Jack is certainly up there."
Outlander season 1 finale titled To Ransom A Man's Soul, airs on 30 May on Starz.