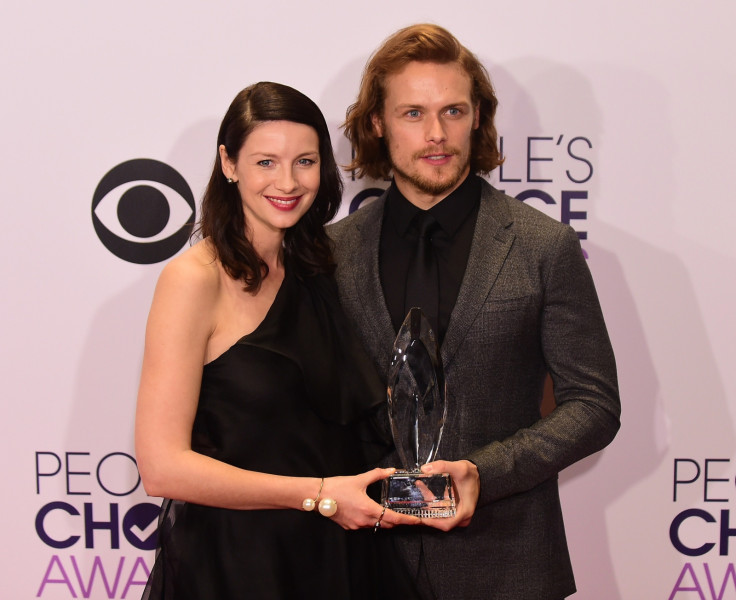 Starz' hit series Outlander is on a mid-season break, and will return with the second half of Season 1 this April.
Actors Caitriona Balfe and Sam Heughan, who play Claire and Jamie Fraser, also shared a few details on what to expect in the upcoming episodes.
Balfe told Access Hollywood: "I think things get a lot more intense. I think we've seen sort of the ease into this lovely marriage and then we watch them really have to go through a lot as a couple."
Heughan added that Claire and Jamie won't be on easy street any time soon in their 1743 lives.
"They go through a lot and then they have to obviously work very hard to sort of get over all these obstacles," he said.
Another report in Eonline dished more on the twists and turns ahead in the show.
"The first episode back is gut-wrenching, uncomfortable/offensive and then basically straight-up porn," read the report.
The report also states, "The second episode back is slower-paced and odd, but an amazing set up for the third episode back, which is STRAIGHT UP BANANAS. I didn't breathe from about half-way through the episode to the end of it. Major game-changers galore and something that fans who didn't read the books wouldn't think would happen so soon."
What to expect in episode 9
Episode 8 left us on a cliffhanger, and the last we saw was Claire nearly getting raped by Black Jack Randall and Jamie showing up heroically at the window to save her.
Executive producer Ron Moore told TVLine that shooting the culmination of Season 1 involved some "grueling, difficult scenes."
Jamie finds himself the prisoner of Black Jack Randall, who tortures and humiliates him in Wentworth Prison. "There were a lot of hours spent in that cell. There's a lot of rough stuff happening," Moore previewed.
"Just from the dailies, you can tell that it's pretty amazing. It's pretty intense stuff, and I think it's going to really surprise people." What about the herd of livestock that makes an appearance at a key point in the narrative? "We did wrangle some cows," Moore added.
The new Starz series also won the Favorite Cable Sci-Fi/Fantasy TV show award at the People's Choice Award this year.
Outlander returns on April 4 on Starz channel.