Fans will be treated to an emotionally charged rollercoaster ride in the season 2 finale of Outlander. As Claire and Jamie's efforts to avoid the Battle of Culloden have failed, the 90-minute episode will feature the Jacobites army battling the English forces as the former travels back to the 1940s.
Actor Sam Heughan and executive producer Maril Davis have teased what viewers can expect in the season 2 final episode. In an interview with Access Hollywood, Heughan, who plays Jamie said, "I haven't seen the last episode. Obviously, I was in it somewhere, but I just remember it being very, very emotional and critical, actually. The time is getting so close to zero hours, to the point that they have to stop history from happening. Whether or not they do is the spoiler."
While Davis teased that the episode will be heartbreaking, he shared, "It's so emotional...It's so heartbreaking. I don't cry anymore at playbacks; I really don't because I've seen the stuff so many times. I cried like three times [watching the finale]. The music is wonderful, the writings amazing. I mean, Caitriona and Sam are heartbreaking. Get your tissues and your whiskey 'cause you're going to need it."
The latest promo of the episode shows some tense moments, as Jamie tells Claire, "Battle of Culloden will happen, today!" Claire and Jamie will be separated as the latter says goodbye to her and she says, "I can't leave you."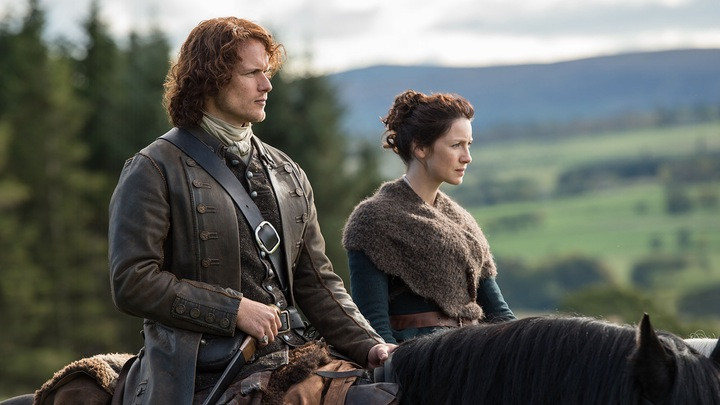 Then, Jamie takes Claire to the Standing Stones, through which she time travelled back to 1700s in the pilot episode. The promo then shows Claire asking her husband, "How can I come back?"
In the finale, fans will witness some travel back and forth in time and according to the synopsis, the finale hour will flash forward to 1968, where Claire will travel to Scotland along with her 20-year-old daughter, Brianna, where they will meet Roger Wakefield.
Claire visits Lallybroch and Culloden Moor to make peace with the past, while Brianna and Roger bond over researching the Randall family history. To find out how things end for Claire and Jamie, watch Outlander season 2 finale on 9 July at 9pm ET/PT on Starz network.
Below is a mini-description of Outlander season 2 finale:
In the present, Claire reveals the truth to her daughter, Brianna; in the 18th century, Jamie does everything he can to save his loved ones as the Battle of Culloden begins.