Over 100,000 acres of land torched in Florida wildfires
Thousands of homes have had to be evacuated.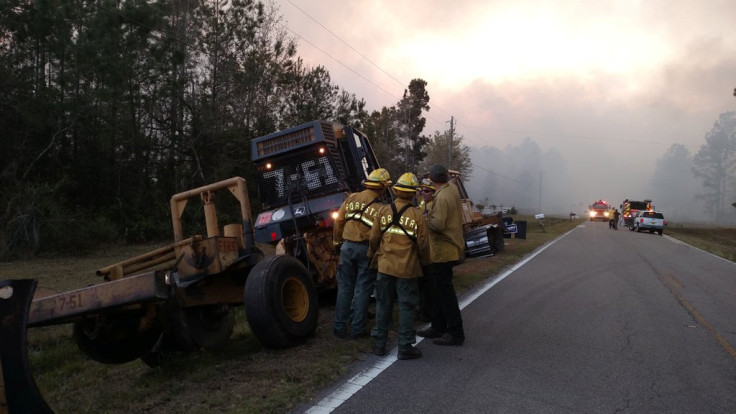 Thousands of homes have been evacuated in Florida as wildfires ravage the southern US state.
More than 100,000 acres of land have reportedly been burned across at least 91 different fires in central and southern Florida.
With high temperatures and humidity, the area is no stranger to wildfires, but officials said this was the worst outbreak seen in a number of years.
"This is the most active fire season that the state of Florida has witnessed since 2011," Agriculture Commissioner Adam Putnam said at a news conference, local press reported.
He said that the worst wildfires historically followed from wet years and noted how Florida experienced record rainfall in 2016.
"Extreme begets extreme as my grandfather used to say," Putnam said.
Florida reported less than 900 fires in all of 2016 but has already experienced more than 1,600 in 2017.
Jim Karels, director of Florida Forest Service, said the fires had been experienced earlier than normally expected.
"We tend to peak in the months of April, May and June. And many times, the worst is in May and June. So this is early," he said at the same news conference.
Florida Governor Rick Scott has declared a state of emergency and called in the National Guard to help firefighters to battle the blazes. They will deploy five UH-60 Blackhawk helicopters equipped with 600-gallon water buckets to aid with the effort.
Some state officials believe a high number of the wildfires have been caused by arson and County Sheriff Grady Judd announced that a $5,000 (£3,900) reward will be given to anyone who provides material information about perpetrators.
"If someone is setting these fires, we will find out who they are, and we will put them in jail. That's a promise," Judd said, reported CNN.
Baker, Brevard, Citrus, Glades, Hendry, Hernando, Highlands, Lake, Levy, Nassau, Okeechobee, Orange, Osceola, Palm Beach, Pasco, Polk, Putnam, Seminole and St Lucie counties have all been affected.
© Copyright IBTimes 2023. All rights reserved.