Oxford Circus went into lock down just after 4.30pm on 24 November with the Metropolitan Police ordering anyone in the area to take cover after several reports of several gunshots.
It appears that the incident was a false alarm and the Met announcing they had found no casualties, weapons or any evidence of an incident about an hour and twenty minutes after panic broke out.
Video footage shows terrified Christmas shoppers running for cover shortly after 4.30pm.
The area was completely evacuated and is now empty except for the emergency services, who worked to establish what had happened.
The Met said, in a statement: "We have not located any trace of suspects, evidence of shots fired or casualties. Officers still on scene. If you are in a building stay there, if you are on the street in Oxford Street leave the area. Officers continue to search the area. More updates as soon as we have them."
The Oxford Circus underground station was also evacuated but has since reopened.
It is not known what sparked the panic, but reports of gunshots were made both to the police and on social media.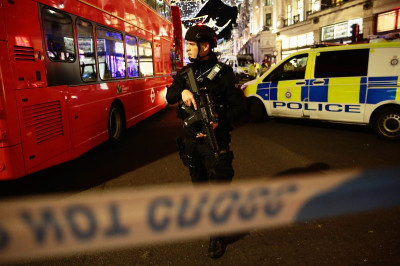 Several people on Twitter referred to gunshots around the station which serves Oxford Street and Regent Street, where the Christmas lights have been glowing since 7 November.
Pop singer Olly Murs wrote: Fu*k everyone get out of @Selfridges now gun shots!! I'm inside"
Murs has since tweeted again to say he was "told" that there had not been any gunshots. He is now recovering from the day's excitement in a hotel.
Rumours on social media also suggested there may have been an armed gang fight.
The Metropolitan Police have told people in the area to stay inside, adding: "If you are on Oxford Street go into a building. Officers are on scene and dealing. More info when we can."
In an earlier statement the Met said:
"Police were called at 16:38hrs on Friday, 24 November to a number of reports of shots fired on Oxford Street and underground at Oxford Circus tube station.
Police have responded as if the incident is terrorist related. Armed and unarmed officers are on scene and dealing along with colleagues from British Transport Police.
If you are on Oxford Street go into a building and stay inside until further direction.
Avoid travelling to the Oxford Street area.
"At this stage police have not located any casualties."