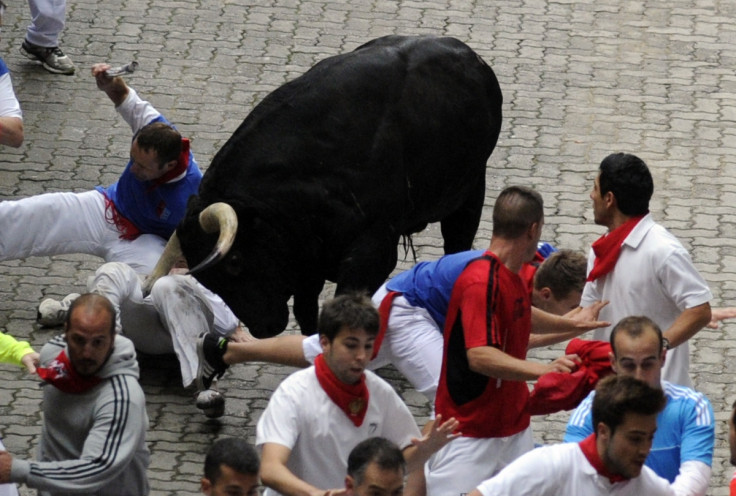 The French citizen suffered serious injuries during the Pamplona festival in which bulls run through the village streets.
The 44-year-old known only by the initials L.O. died after being gored by a bull during the run at a small town festival in eastern Spain.
He died at the scene early on Tuesday morning (14 July), according to the town hall of Pedreguer.
The man was standing with a group of friends when the bull came charging towards him, according to AP.
Festivities have been cancelled until Wednesday after the death.
During the nine-day San Fermin festival, ten people were gored but none have died of their injuries. However, two other people were killed at the festival elsewhere in Spain during the last few weeks.
The San Fermin press office said five people were treated in city hospitals for bruises suffered in falls or from being trampled on by the beasts or other runners, but none was in serious condition.
Fifteen people have died from gorings in the Pamplona festival since 1924.
In Pamplona's final run, hundreds of people raced alongside six fighting bulls from the renowned Miura ranch, considered among the fiercest in Spain.
The bulls are killed by professional matadors in bullfights each afternoon during the festival.
This year's festival saw hundreds of protesters gather outside Pamplona's city hall, in response to reports of a sexual assault on a 19-year-old British woman last week. Women's groups said she had been assaulted in a bathroom before two friends rescued her. Police are investigating the incident, according to a Guardian report.
Local women's groups have received many complaints about sexual harassment and assaults among the crowds.
"For years, San Fermín was sold as a fiesta where anything goes, where you can do whatever you want and there are no consequences," said Zuriñe Altable of the Platform of Women Against Sexual Violence.
More about Pamplona bull run