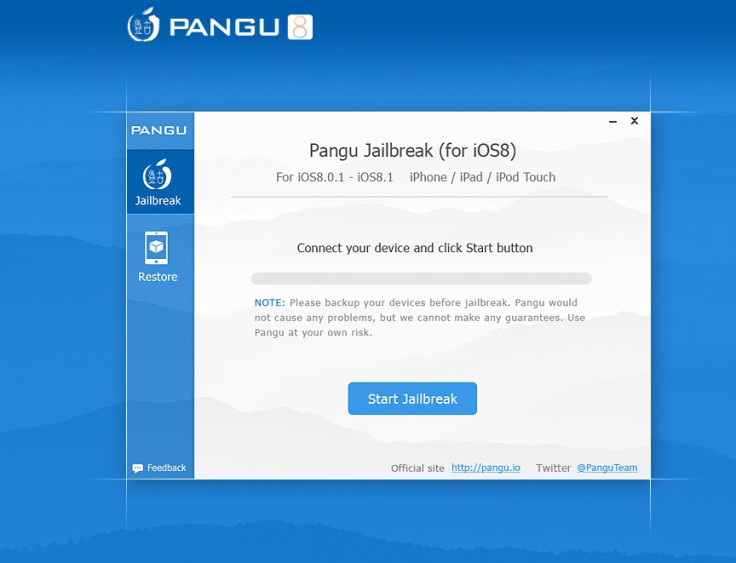 As promised earlier, the Chinese jailbreak team has rolled out Pangu8 1.1.0 jailbreak bundled with Cydia and English support.
The team has confirmed their Halloween gift for jailbreakers through Twitter.
The Pangu8 1.1.0, weighing 42MB, is an untether jailbreak and is compatible with all devices running iOS 8 or iOS 8.1. Along with English and the latest Cydia version, the v1.1.0 integrates a few fixes and several new changes.
Pangu8 1.1.0(2014.10.31) Change log
Bundle the latest Cydia for iOS8.
Optimise jailbreak process.
Fix an issue that may cause MobileSafari to crash on 64bit devices.
Fix an issue that causes iMessage/SMS to fail to send images.
Respring is not required anymore to make Substrate working.
Pangu APP now with some useful functions.
Add English support
Those of you who have already jailbroken their devices with Pangu8 v1.0 and installed Cydia are recommended to update Cydia and the Pangu untether inside Cydia and there is no need to rejailbreak your iOS8-iOS 8.1 device with the Pangu8 1.1.0.
Also the Pangu8 1.1.0 jailbreak utility is currently for Windows only but the team promises to release the Mac version soon. Below is the download link for the Windows version of Pangu jailbreak.
Download link: Pangu8 1.1.0 [Windows]