The police dog that became a hero around the world after he was shot dead in a gunfight with the Paris-attack terrorists may have been killed by French police officers by accident. The Belgian shepherd dog Diesel was reportedly shot by one of his own handlers in the chaos of a counterterror raid on a Paris flat in November.
The dramatic raid on the flat was to hunt for the ringleader of the Paris attacks, Abdelhamid Abaaoud, who was said to have been hiding there. Initial reports had suggested that police had been met with automatic weapon fire on entering the property. However an investigation has revealed that the three terrorists in the flat only had a single handgun and nine rounds of ammunition with them.
At least 40 bullets that hit police shields and killed Diesel during the raid were therefore likely to have been fired by their officers, the French outlet Mediapart quoted an unidentified senior police officer as saying: "The guys at the back of the assault columns and the snipers were shooting ahead of them and hit the shields," the senior officer told Mediapart.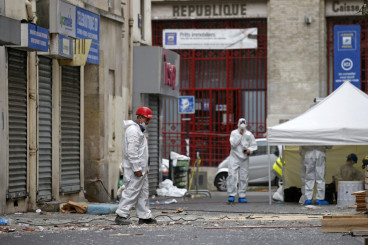 Diesel was touted as a hero and Russian president Vladimir Putin, a known dog lover, even offered a replacement to France. "Diesel died for France," said Mediapart. "But the story does not match the observations carried out by the police experts."
It said that none of the three terrorists was hit by shots from the 70 officers, even though police fired more than 1,500 rounds into the apartment in two hours. Mediapart concluded that officers lost control under the stress of confronting the killers behind the 13 November attacks.
It noted that the security forces had nevertheless neutralised the terrorists, but said: "One can and must condemn the way the media were manipulated to pass off a badly led operation as a clear success," it said.