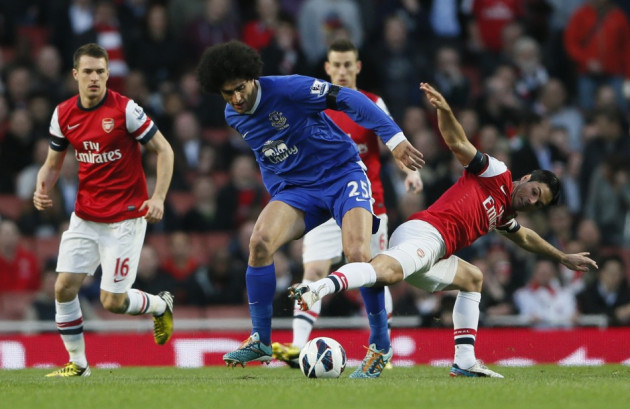 Former Arsenal midfielder Ray Parlour says Arsene Wenger's main priority during the summer transfer window should be to belatedly replace ex-captain Patrick Vieira, with Everton's Marouane Fellaini identified as a potential candidate.
Vieira's departure to Juventus in 2005 has coincided with a trophy drought in the red half of north London, with the Frenchman sparking a mass exodus from the Gunners with Thierry Henry, Cesc Fabregas and Robin van Persie all departing in the preceding years.
Mathieu Flamini, Alex Song and Abou Diaby have all been trialled in the holding role for Arsenal, but with the former pair having left for AC Milan and Barcelona respectively, and the latter out for the remainder of 2013, Wenger is once again under pressure to fill the void in his midfield.
And Parlour says that Fellaini, whose future at Goodison Park is uncertain following the departure of David Moyes and reports suggesting Arsenal have activated the Belgian's release clause, would be the ideal replacement for the long-departed France international.
"I would hope so, with the physical power he has got, and his performances at Everton have been fantastic," Parlour said when asked about Fellaini's suitability for the role.
"It's not just his threat from set plays either, we all know about Arsenal sometimes conceding easy goals from corners but it's one of those situations where you need people to defend those, he would be an addition to that and he can also score goals.
"But Vieira was a very good leader for the club after Tony Adams, that was always going to be the big question, who could lead the club forward? Patrick certainly did a good job as skipper.
"So maybe that is an area that they will strengthen. We tried [Abou] Diaby but he got injured on regular occasions and [Alex] Song was there for a while but he has moved on.
"That is the position they need to have a look at. [Mikel] Arteta did a great job last year but he's getting that little bit older so I'm sure Wenger will be targeting players in that area."
Despite chief executive Ivan Gazidis promising that Arsenal have the funds available to launch a major summer raid in the transfer window, questions remain over Wenger's desire to splash out big money on players.
But Parlour believes Arsenal face a bigger challenge than simply Wenger's frugality, with the availability of potential holding midfield players restricting the club's movement.
"The problem is finding that sort of player," Parlour added. "Who is available? A lot of players are tied down to big contracts now and you can't get those sort of players, they're very hard to find.
"Vieiras for £3.5m, they don't come around very often these days so the hardest thing is getting the right personnel in.
"They've got great players there in the likes of [Jack] Wilshere and [Santi] Cazorla but it's getting the right blend as a team, the real question is can you get a few people working hard in midfield for Cazorla to show his talents going forward.
"I was probably one of those sort of players for Arsenal, I worked hard, won the ball back and gave it to the likes of [Dennis] Bergkamp and [Robert] Pires who could really hurt the back four.
"It's about that blend; you can't have all attacking players and you can't have all defensive players so that's what Arsene Wenger has got to work out."