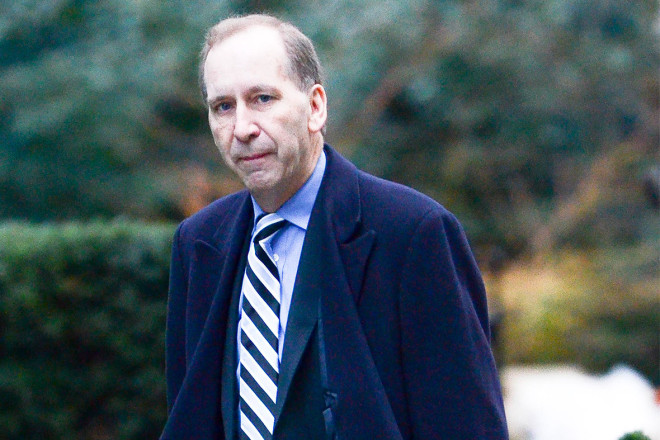 Downing Street has been accused of a cover-up over the arrest and resignation of one of the prime minister's most senior aides.
Patrick Rock resigned from his post just hours before he was arrested and questioned by police on offences related to child abuse imagery.
The 62-year-old, dubbed "'the most powerful Cameron adviser most people have never heard of", played a key role in shaping government policy on internet filters to stop children accessing pornography.
Labour said it was extraordinary that such a senior official could resign in such circumstances without any public announcement. The arrest and resignation happened three weeks ago.
Downing Street tried to keep the matter a secret and it was only revealed after David Cameron was forced to issue a statement by a newspaper probing the issue.
The PM, however, a long-standing friend of Rock's, said: "When I heard about these allegations I was profoundly shocked and I remain profoundly shocked today.
"I have to be careful about what I say about this issue because a criminal investigation is under way."
Rock worked with Cameron when they were advisers for former home secretary Michael Howard.
Labour MP John Mann said: "Yet again we are seeing a lack of transparency from No 10. It is highly inappropriate that a major figure could cease to be responsible for these policy areas without MPs and the public being made aware. We need to be sure there are no policy implications."
Downing Street was informed of a potential offence on 12 February. Rock resigned later that day and was arrested in the early hours of 13 February. Officers from the National Crime Agency searched Downing Street IT systems and Rock's office.
A Downing Street spokesman said: "We take any accusation of alleged inappropriate behaviour very seriously. It is inappropriate for us to go into the detail of any grievance or disciplinary cases at No10.
"Individuals have a right to privacy and confidentiality and to maintain an environment that ensures individuals are not deterred from making complaints. However, we can confirm that an allegation was raised. This was dealt with seriously, immediately and at senior level, to the complainant's full satisfaction."
Rock failed four times to become an MP despite being encouraged by the late Margaret Thatcher, who deemed him her protege.
One Conservative MP said he was responsible for rescuing Cameron by giving him a job after he lost his post at the Treasury when Kenneth Clark became chancellor.
During the 1984 Portsmouth South by-election campaign, Rock was described as "likeable and energetic but slightly wet behind the ears".
A National Crime Agency spokesman declined to comment.