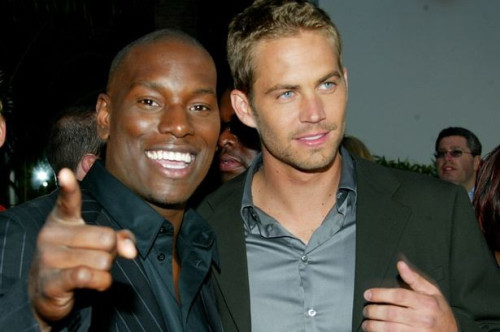 Paul Walker's Fast and Furious co-star Tyrese Gibson, who is currently in the middle of a volatile custody battle with his ex Norma Gibson, reportedly claims that Walker's death is being used to goad him into paying more child support.
Hollywood Life (via TMZ) reports that Norma filed court documents stating that Tyrese is a negligent father and even though he had more free time owing to Fast & Furious 7 filming suspension post Walker's death, he did not spent it with his six-year-old daughter in Los Angeles.
Norma claims that Tyrese went "gallivanting throughout Dubai, where he stayed in expensive hotels, partied on yachts, drove expensive cars, and made appearances in night club" instead of being with his daughter.
Tyrese has reportedly responded by explaining that his trip to Dubai was for business, "he had 4 gigs and he needed the money, ironically to pay the child support Norma was demanding," reports TMZ.
Tyrese has been extremely public and outspoken regarding the grieving after his Fast and Furious co-star's demise. It is highly unlikely that this is the way Gibson would want to remember Walker - as a strategic plot point in his legal fight with Norma, according to Hollywood life.
Tyrese Gibson, earlier in January, opened up in his first interview since the tragedy and discussed what a wonderful man Walker was. He admitted what a toll Paul's death understandably took on him, saying (via PerezHilton):
"I've never been depressed in my life but I was very, very sad and down and it took me a minute to shake it."
Expressing his gratitude to the fans who according to him, helped the entire cast and crew of the film cope with the tragedy, he said, "All of the prayers and tweets and posts and Instagrams that you've sent all of us. We love y'all and appreciate y'all and just...thank you. It means a lot."
Tyrese and Norma will meet later in February to argue this issue.