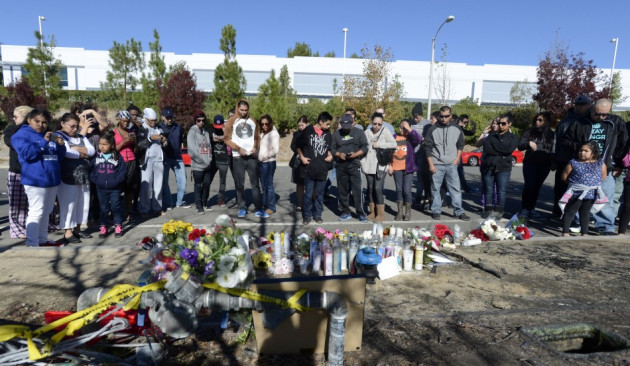 Police have revealed that a second man has been charged with stealing a piece of the wreckage of the Porsche that Walker was a passenger in when he was killed.
Prosecutors claim that 25-year-old Anthony Janow and 18-year-old Jameson Witty stole a roof panel from the wreck as it was being towed away from the crash site.
Just hours after the tragic accident that claimed the lives of Paul Walker and his friend Roger Rodas the wrecked Porsche Carrera GT was being hauled by a flat-bed tow truck.
When the tow truck stopped at a red light, a man was seen leaping out of a car following behind, and seized a piece of the smashed vehicle. He then jumped back into his car and sped away, according to the police report.
The tow truck driver immediately reported the theft. A search warrant was executed on Thursday, and police found the stolen car panel - a part from the sports car's roof.
Janow was released on $60,000 bail following the charges. Witty, who was also released on bail, was caught on video stealing the T-top roof of the Porsche from the tow truck. It has been reported that he later bragged about the callous crime and posted pictures of the stolen wreckage on Instagram.
The pair could face up to four-and-a-half years in prison for the offence.
Witty has since taken to Instagram to apologize for his actions. 'I wanted to say my intentions for the piece I took off the two truck were to make a memorial out of it. Paul was a childhood idol to me and many."
Last week (9 December) it was reported that a man had tried to sell pieces of charred bark, allegedly taken from the tree Paul Walker crashed into, on eBay.
According to TMZ, an unidentified seller posted six pieces of the charred tree from the site of Walker's death, asking for at least $100 apiece. However, after being targeted by hate mails, he withdrew the auction.
"I would like to apologise to the family, friends, and fans of Paul Walker. At the time I listed the bark for sale, I did not realise the emotional impact it would have," the seller told TMZ.
The investigation into the crash that killed both Walker and Rodas is still ongoing.
Walker was buried yesterday (14 December) in a private ceremony at Forest Lawn Cemetery.