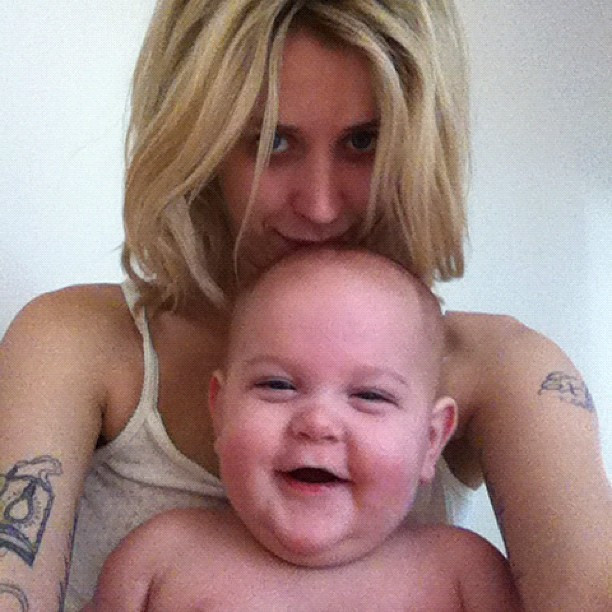 Before her untimely death, Peaches Geldof frequently opened up about the pain that she felt after losing her mother Paula Yates when she was just 11 years old.
So it came as no surprise that the 25-year-old , who knew better than anybody how hard it was to grow up without a mother, said goodbye to her wild days when she welcomed her first child at the age of 23.
The former TV presenter saw the new role as an opportunity to heal past wounds and in turn motherhood provided her with the stability that she craved as a lost and heartbroken child.
Her love for her husband Thomas Cohen and her two boys Astala and Phaedra consumed her and she was not afraid to show the world on national television and social media that she was finally happy and content.
She would use photo-sharing app Instagram to give fans regular glimpses into the rustic life that she had managed to create for her family despite the chaos of her own upbringing.
Many of the pictures and short videos showed a tired but smiling Geldorf in her element while playing with her laughing babies, the family spending quality time together in the sunshine or the infants in blissful slumber.
The fact that Geldorf fought so hard for these special moments makes her untimely passing that more tragic.
DEVOTED MOTHER: She shared hilarious clips of her life as the mother of Astala and Phaedra.
YUMMY MUMMY: She still found time to socialise
HEARTBROKEN DAUGHTER: Hours before her death Peaches shared this image of herself with her late mother Paula Yates. She often shared pictures of her mother with fans.
Her mother died of a drug overdose in September 2000 when Geldof was 11. At the time her father insisted that the family should "keep calm and carry on" and she didn't start openly grieving until she was 16.
COMEDIAN: The mother-of-two would often share hilarious pics that she had created on her timeline
WIFE: She married musician Thomas Cohen in 2012.
"My beloved wife Peaches was adored by myself and her two sons Astala and Phaedra and I shall bring them up with their mother in their hearts everyday. We shall love her forever. Thomas Astala and Phaedra Geldof-Cohen."